This article is part of our DFS PGA series.
This week, the PGA Tour heads to the Bay Hill Club in Orlando for the Arnold Palmer Invitational. Our article will focus on ThriveFantasy's player props for Thursday's action in the tournament.
If you are unfamiliar with how ThriveFantasy works, please refer to my introductory article here. Also, first-time depositors who use the promo code RotoWire will get a deposit match up to $25.
COURSE OVERVIEW
Bay Hill Golf Club - Par 72, 7,419 yards
Orlando, FL
The first thing you'll notice about this course is water, lots of it. And the water comes into play a lot. Around 200 balls found the water in last year's tournament, so it's easily the most dangerous hazard on the course. To offset those dangers, the course also has four very reachable Par 5s, so being able to take advantage of those holes is paramount. The Par 4s are noticeably more difficult, and many are dogleg holes that require an accurate tee shot You'll see a lot of the pros club down on these holes as a result, which makes the standard approach yardage somewhere between 175-225 yards. Good ball striking from that range is another metric worth considering.
Since it's an invitational, the field is smaller than usual, but there's still a 36-hole cut. Most of the final scores in this tournament have winners scoring anywhere from 11-under to 16-under on average, so low scores are certainly doable. Special attention should be paid to the 2019 and 2018 finishes of our selected players, as this is the kind of course that fits a player's game or doesn't fit at all.
Rory McIlroy - STROKES 69.5
As you can see from our table, McIlroy loves to play this course, and I think he'll take advantage of the Par 5s to come in under this number.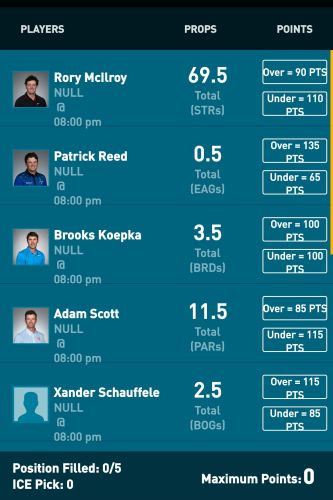 PICK: UNDER
Patrick Reed - EAGLES 0.5
Reed will have four chances to get an eagle, but as a player who goes with percentages, this metric is almost never hit. I'm not as high on it in this spot, but I'll go the way I usually do.
PICK: UNDER
Brooks Koepka - BIRDIES 3.5
Koepka is a good example of a player who's eye doesn't fit this course. The missed cut and his recent erratic play make me go the other way here despite his ability to crush Par 5s.
PICK: UNDER
Adam Scott - PARS 11.5
Could Scott net six non-pars? Let's assume he birdies half of the Par 5s, and maybe one or two Par 4s. Throw in a bogey or two and we've hit the under.
PICK: UNDER
Xander Schauffele - BOGEYS 2.5
We have no recent course history for Schauffele, but his recent metrics certainly favor the course. While I expect a good score from him, the number of bogeys could still go north of this number, offsetting good performances on the Par 5s.
PICK: OVER
Bubba Watson - EAGLES +BIRDIES 3.5
Watson's Par 5 BoB is not where I'd like it, but I think he could birdie at least one, and his approach numbers are really good with the Par 4s. No eagles, but I think he can birdie four holes.
PICK: OVER
Justin Rose - PARS + BOGEYS 12.5
This is my least favorite O/U to play, and it probably won't be one of my five selections. We are looking at 2019 stats on the table, and Rose has only shown brief flashes of his usual form. I'm going to take the Over.
PICK: OVER
Phil Mickelson - STROKES 70.5
Very tricky number. He missed the cut last year and didn't play the year before. I can see how the layout doesn't favor a lefty.
PICK: OVER
Rickie Fowler - BIRDIES 4.5
Fowler, on the other hand, likes how this course fits his game. His finishes here are decent. Could he card a 67? Possibly, but that isn't what we need for this prop. He has four solid birdie opportunities in the Par 5s. He may bogey a few holes but I can see path to five birdies.
PICK: OVER
Hideki Matsuyama - STROKES 68.5
Another tough one. His numbers are trending up and he's shown improvement on this course over a two-year span. His Round 1 success isn't where I'd like it to be, though. I think he'll go under par, but 4-under might be a bit of a stretch. Not my favorite play.
PICK: OVER
The author(s) of this article may play in daily fantasy contests including – but not limited to – games that they have provided recommendations or advice on in this article. In the course of playing in these games using their personal accounts, it's possible that they will use players in their lineups or other strategies that differ from the recommendations they have provided above. The recommendations in this article do not necessarily reflect the views of RotoWire.