This article is part of our 2020 Training Camp Preview series.
Expanding upon our team preview collection from earlier this offseason, we're gearing up for an irregular August with a series of team-specific articles to get you up to speed for training camp. You can find the previous writeup on the Washington Football Team here.
State of the Franchise
The coronavirus pandemic forced the NFL to cancel offseason programs and ultimately the preseason, leaving teams with only training camp to prepare for Week 1. The challenge is universal, but that doesn't mean it will have the same impact on every franchise.
Heavyweights like Kansas City, Baltimore and New Orleans bring back the same core groups that dominated in 2019, while the Washington Football Team has a new head coach and two new coordinators working with a second-year quarterback and a young group of skill-position players. Even if he turns out to be the right man for the job, Ron Rivera will have a tough time piling up Ws in Year 1.
The good news from a fantasy standpoint is that any struggles could force more passing, which would allow Dwayne Haskins and Terry McLaurin to strengthen their chemistry. McLaurin initially slumped when Haskins replaced Case Keenum last October, but the young wideout eventually bounced back with 273 yards and two touchdowns over his final three games. The hope for 2020 is that the offense can take a step forward, led by Haskins, McLaurin and oft-injured halfback Derrius Guice.
Job Battle
Last year's sixth-round pick, Kelvin Harmon, quietly put together a solid rookie campaign, taking over a starting job midseason and hauling in 68.2 percent of his targets for 8.2 yards per reception. He would've been the favorite to keep that job, but he suffered a torn ACL this summer while working out.
It's possible the team brings in a veteran free agent or else explores different options on the trade market. If not, rookie fourth-round pick Antonio Gandy-Golden eventually could find himself in a job battle with veteran journeyman Cody Latimer – the latter is on the commissioner's exempt list – and there might even be room for someone like 2018 UDFA Cam Sims to enter the competition.
Really, competition will be the name of the game for every key spot in this offense, with the exception of Terry McLaurin being locked in as the top receiver. The tight end room looks like an open battle between Jeremy Sprinkle, Logan Thomas and anyone else with a pulse, while the backfield has a handful of players – including Adrian Peterson and rookie Antonio Gibson – competing for roles behind Derrius Guice. Even the QB spot could get interesting, with Dwayne Haskins potentially facing pressure from Kyle Allen if things look ugly early on.
Medical Tent
Guice technically is considered healthy, but his medical sheet leaves one to wonder how long the good times will last. The 2018 second-round pick played through a knee injury his final season at LSU, and he's now missed 27 games through two pro seasons. Last year, he missed Weeks 2-10 with a meniscus injury in his right knee, later sitting out Weeks 15-17 with an MCL sprain in his surgical repaired left knee. On the plus side, he averaged 5.8 YPC on 42 carries and scored three TDs on 49 touches, and he just turned 23 in June.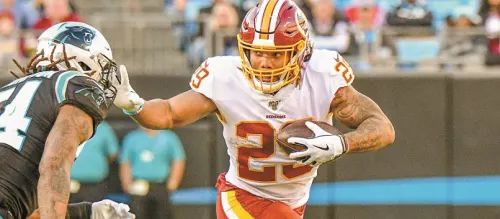 A 2017 first-round pick who is perhaps best known for his off-field issues, Foster appeared ready for a career revival in Washington before ACL and LCL tears ruined his plans last May. Ligament damage caused him to temporarily lose feeling in his toes and lower leg, hinting at a difficult rehab process. The good news is that Foster will be almost 16 months removed from the injury by Week 1, and Washington still needs a playmaker in the linebacking corps. Foster could be an every-week IDP starter if he eventually secures a three-down role.
RB Bryce Love
The one-time Heisman candidate has struggled to make it back from the ACL tear that ended his Stanford career in December 2018. A "redshirt" in 2019 was always a possibility for the fourth-round pick, but he probably hoped he'd at least be healthy enough to train. Instead, Love required a follow-up surgery on his knee in late October, forcing him to continue his rehab into this offseason. He should be healthy now, but he'll enter camp on the roster bubble, competing with Adrian Peterson, Antonio Gibson, J.D. McKissic and Peyton Barber for what likely will be three total backup jobs behind Guice.