This article is part of our 2020 Training Camp Preview series.
Expanding upon our team preview collection from earlier this offseason, we're gearing up for an irregular August with a series of team-specific articles to get you up to speed for training camp. You can find the previous writeup on the Tampa Bay Buccaneers here.
State of the Franchise
The signing of Tom Brady to a two-year, $50 million deal at the onset of free agency was a development of seismic proportions and the crown jewel of the Buccaneers' offseason. The subsequent addition of Brady favorite Rob Gronkowski, who Tampa lured out of retirement, was potentially the final cog of an offensive machine that, on paper, looks like one of the most daunting for defenses league-wide. With Gronkowski on board and the Bucs declining to trade away either O.J. Howard or Cameron Brate, the team arguably has the most depth at tight end of any team in the NFL.
The sky-high anticipation surrounding Brady largely stems from the idea of what a player of his caliber could do in coach Bruce Arians' aggressive offense while throwing to a pair of wideouts with the talent of Chris Godwin and Mike Evans. The prolific pass catchers have recovered from the hamstring injuries that cut short their 2019 seasons and give Brady a starting duo the likes of which he hasn't been afforded in many seasons.
Brady will be supported by a running game that should be more dynamic than 2019 with the additions of third-round pick Ke'Shawn Vaughn – who posted back-to-back 1,000-yard seasons at 6.4 YPC and 21 rushing touchdowns in his junior and senior seasons at Vanderbilt – and accomplished veteran LeSean McCoy.
Job Battle
Ronald Jones and Ke'Shawn Vaughn were set to battle it out for carries coming into training camp, but the signing of LeSean McCoy has introduced a wrinkle into that scenario. Exactly how McCoy will be integrated remains to be seen, but the purpose of bringing in the 32-year-old, multi-time Pro Bowler is clear – the Bucs are looking to provide Tom Brady with the caliber of pass-catching back he's thrived with previously.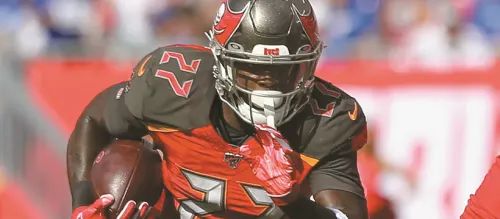 One thing that is for certain is that the trio has the talent to make the Buccaneers' ground attack one of the most improved in 2020. Jones made significant strides last season by rushing for 724 yards and six touchdowns while adding 31 receptions, but the bar he set in his forgettable rookie campaign wasn't very high. Nevertheless, the USC product worked diligently to add muscle and improve as a receiver this offseason, underscoring the fact he knows he has formidable competition awaiting in Vaughn, and now McCoy.
Vaughn not only proved highly efficient on a per-carry basis at Vanderbilt, but he also showed enough as a receiver with 28 receptions as a senior to support that he could be a weapon out of the backfield for Brady. If he can prove adept at picking up the pass-protection aspects of his position, he has a chance to make inroads on the playing time front during his rookie campaign.
Medical Tent
WR Mike Evans
Evans strained his hamstring Week 14 last December, an injury that sidelined him the rest of the way and resulted in his first season with more than one DNP in his six-year career. The soon-to-be 26-year-old was excellent when on the field, finishing with a 67-1,157-8 line across 13 contests. The good news is Evans gets an upgrade from the turnover-prone Jameis Winston to Tom Brady this season, and that his now-healed leg has allowed him to participate in workouts organized by the future Hall of Famer in recent months. Given the talent of both quarterback and receiver, a Brady-Evans connection could be one of the NFL's most prolific.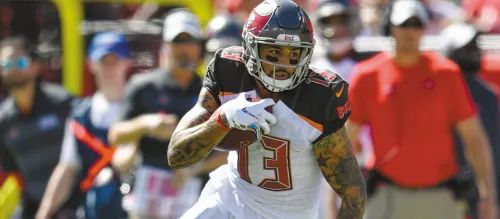 WR Chris Godwin
Just like fellow star wideout Evans, Godwin also succumbed to a hamstring injury in the latter stages of 2019. Before seeing his season cut short, Godwin produced career bests in receptions (86), receiving yards (1,333) and receiving touchdowns (nine) across 14 games. Thriving in coach Bruce Arians' scheme, Godwin also recorded 25 catches of at least 20 yards, including three over 40 yards. The Penn State product has the talent to play any receiver position and could find himself in numerous roles within the Brady-helmed offense. Godwin's hamstring is also long healed, and he, too, has been able to work out with Brady ahead of training camp.
EDGE Jason Pierre-Paul
Pierre-Paul and injuries have unfortunately enjoyed a cozy relationship over the last few years, but he does have a bright outlook on the health front heading into training camp. As opposed to last summer, when he was recovering from a serious car accident that left him with a fractured vertebra, he's in the final stages of rehab following June arthroscopic knee surgery that he underwent after signing a two-year, $27 million contract to remain in Tampa. The 31-year-old has accumulated 21 sacks in his first 26 games in a Bucs uniform, and by racking up 8.5 of those in just 10 games in 2019, he demonstrated he has enough left in the tank to be a disruptive force.