This article is part of our NFL Observations series.
The FSGA industry draft took place today via a zoom call and over the Sirius XM airwaves. It's a full PPR, 14-team, 1-QB, 2-RB, 3-WR, 1-TE, 1-FLEX league. I drew the 14th pick.
Here are the results: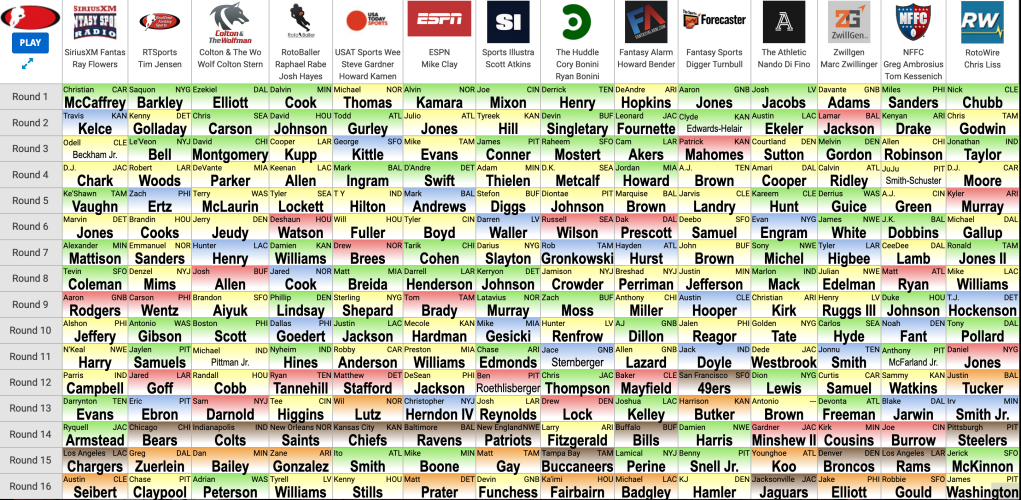 To enlarge image, click here.
1.14 Nick Chubb – I was hoping to land Chubb at this spot, as your first pick should have the highest possible floor. Even with Kareem Hunt around, I expect Chubb to push for 300 carries behind a vastly improved offensive line. Chubb is also one of the best and most efficient early-down bruisers in the league.
2.1 Chris Godwin – I knew I was taking Chubb, but when Miles Sanders went at 1.13 I wasn't sure about my second pick. Kenyan Drake has the ceiling but not the floor – even Brian Flores soured on him – and Austin Ekeler might not be the same player without Philip Rivers. Clyde Edwards-Helaire will be worth it if the Chiefs give him enough work, but Kansas City has no reason to push him given their offense is still elite even when Damian Williams is in the lineup. So I took the best wideout on my board in Godwin who profiles as a bigger, faster, stronger and shiftier Julian Edelman, but in his prime, for Tom Brady.
3.14 Jonathan Taylor – I couldn't believe he was still available at the end of Round 3, and I was glad, especially after taking Godwin instead of a running back. Taylor's got competition in Indy, but if he's as advertised, Marlon Mack and Nyheim Hines won't be major obstacles behind arguably the league's best offensive line. Moreover, Rivers even made Melvin Gordon relevant as a pass catcher, despite Ekeler's presence.
4.1 D.J. Moore – Allen Robinson went at 3.13, so I was torn between Moore and Adam Thielen. What swayed me toward Moore – and I could have taken Amari Cooper or Juju Smith Schuster as well – was the age difference. Thielen turns 30 in August while Moore was just 23 in April.
5.14 Kyler Murray – This league is only four points per passing TD and one point every 25 (rather than 20) yards passing, so it favors running quarterbacks. That bumped Murray up to No. 3 on my board, ahead of Dak Prescott.
6.1 Michael Gallup – I had him in the top 25 initially before the Cowboys drafted CeeDee Lamb, but Lamb replaces Randall Cobb's 83 targets, so Gallup's role should remain roughly the same. He was highly efficient last year despite 10 drops, and he could see more red-zone work with Mike McCarthy at the helm.
7.14 Ronald Jones – As far as I know, he's still the starter, and the Bucs offense – and defense – might be vastly improved. He also caught 30 passes last year, and could hold off third-round rookie Ke'Shawn Vaughn.
8.1 Mike Williams – Williams has lived up to his No. 7 overall draft pedigree from 2017 whenever he's been healthy (more than 10 yards per target each of the last two seasons.) But Rivers, lacking arm strength, peppered Keenan Allen and Ekeler with short throws, and Williams has never seen the opportunity commensurate with his skills. That could change this year now that Rivers is in Indy.
9.14 T.J. Hockenson – Hockenson was last year's eighth overall pick and showed his potential when healthy. A Year 2 breakout is plausible here.
10.1 Tony Pollard – You should aim for at least one of the no-brainer backups at running back. If you get lucky, they'll win the league for you.
11.14 Daniel Jones – I'm not sure keeping a backup QB around all year is feasible, but Jones has too much upside for this price, and I'm a Giants fan. Plus, Murray will face the 49ers twice and has a bye week.
12.1 Justin Tucker – I was the first to take a kicker, but Tucker's worth it. He's the greatest of all time, and now he's on one of the league's top offenses too.
13.14 Irv Smith, Jr. – I wanted a second TE in case Hockenson can't stay healthy. Smith showed a spark as a rookie and could be the team's No. 2 target after Thielen this year.
14.1 Steelers Defense – They were my top remaining defense, and I had two late sleepers I was pretty sure would be there in Rounds 15 and 16.
15.14 Jerick McKinnon – He's still around and if healthy would likely be the team's third-down back. Moreover, I'm not sold on Raheem Mostert or Tevin Coleman. Mostert himself came out of nowhere last year, as it's the system, not the player, that makes it go in San Francisco.
16.1 James Washington

– The 2018 second-round pick made strides last year, and it's odd he's going so much later than Diontae Johnson.
Roster By Position:
QB: Kyler Murray
RB: Nick Chubb/Jonathan Taylor
WR: Chris Godwin/D.J. Moore/Michael Gallup
TE: T.J. Hockenson
FLEX: Mike Williams
D: Steelers
Bench: Ronald Jones, Tony Pollard, Daniel Jones, Irv Smith, Jerick McKinnon, James Washington