This article is part of our Game Pass Viewing Guide series.
With the NFL opening its Game Pass archive for free through the end of May, football fans now have over a decade's worth of full games to watch on demand. No matter how much time in front of the TV you might have now, that's probably too many games for any one person.
So, our football crew here at RotoWire wanted to offer up a viewing guide to give you, the readers, some of our favorite games. The games that we remember fondly (or not, in Jerry's case), the games that stick out when we think of the last decade of NFL goodness. Some of these are Deep Cuts for our purposes and some are classics with moments that are etched in our collective football consciousness.
It's kind of like embarking on watching the Simpsons for the first time. There are so many episodes that it's intimidating. So it's nice to get some pointers on the best episodes to watch.
Without further adieu, here are our writer's favorite games available to watch on Game Pass right now.
Baltimore Ravens 30 vs. Cleveland Browns 33 (OT)
October 11, 2015
Week 5
I watched this game at a bar in Ann Arbor with my sister, dad and mom (sister is a Wolverine, I'm a Badger). I remember being annoyed because the waitstaff refused to put the Ravens on one of the bar's many big screens, despite it being obvious that some of the TVs weren't being watched by any customers. So, we were forced to watch on a tiny screen in our booth as the Ravens blew a "must-win" game and dropped to 1-4. It feels inconsequential in hindsight, but at the time the Ravens were just nine months removed from holding a 14-point lead in the second half of a divisional-round playoff game in Foxborough (spoiler alert: the Patriots won).
Steve Smith missed this Week 5 game with an injury, and star pass rusher Terrell Suggs had succumbed to an Achilles tear back in Week 1. Smith would suffer that same injury a few weeks later, and Joe Flacco tore an ACL a few weeks after that. When all was said and done, the 2015 Ravens finished at 5-11, which remains the only losing season in John Harbaugh's 12-year tenure as head coach. Highlights of the campaign included two starts for QB Ryan Mallett and career special-teamer Kamar Aiken nearly reaching 1,000 receiving yards (944 on 127 targets).
Editor's note: The Ravens also wore this uniform with mustard pants at one point this season. Never again. And yes, that's Jimmy Clausen.

Anyway, there was still some shred of hope for the Ravens in Week 5, and things looked pretty good midway through the third quarter when Flacco plunged in from one-yard out to give the Ravens a 21-9 lead with his second rushing touchdown of the game (the only multi-TD performance of his career). Everything from that point on was a torrential downpour of Josh McCown and Gary Barnidge, with the former ultimately throwing for 457 yards and the latter putting up an 8-139-1 receiving line. The game is best known for Barnidge's between-the-legs catch, his third touchdown in as many weeks in what ended up being one of the most surprising breakout seasons in NFL history. – Jerry Donabedian
Other Fun Notes
New York Giants 31 vs. Philadelphia Eagles 38
December 19, 2010
Week 15
"The Miracle at the New Meadowlands"
Packers fans had a Super Bowl on their minds heading into a Week 14 matchup with the Lions in 2010, but after losing Aaron Rodgers midway through the game and falling to a team that picked up just its third win of the season, optimism began to fade.
With a game against the Giants left on the schedule, Green Bay needed an Eagles victory over the Giants in Week 15 to remain in contention in a tight playoff race. Things looked bleak for the Pack when, after a DeSean Jackson fumble, New York scored to go up three scores with just 8:17 left on the clock. From that point forward, literally everything went right for the Packers.
The Eagles received the following kickoff and Michael Vick went into Madden mode, connecting with Brent Celek for a 65-yard score on just the second play of the drive. Needing the ball back immediately, Philadelphia opted for the onside kick and recovered. With Vick breaking a long run and eventually punching the ball in on the ground, the Eagles pulled within a touchdown with 5:28 remaining. After forcing a Giants punt, the next drive featured another long run by Vick and resulted in another touchdown, and the game was tied at 31 with just 1:16 to go. The Eagles forced a three-and-out the next time down, and with just 14 seconds left on the clock, the Giants were forced to punt. Head coach Tom Coughlin instructed Steve Weatherford to punt away from the returning Jackson, but Weatherford did not oblige, and Jackson got a chance to atone for his earlier mistake. Atone he did, returning the punt 65 yards and finding paydirt with zeroes on the clock.
As the saying goes, the rest is history. Rodgers returned in Week 16 and the Packers did not lose again. They throttled the Giants and secured the sixth and final playoff spot with a tight win over the rival Bears in Week 17. Rodgers was in vintage form during the postseason, and the Packers marched to their first Super Bowl victory since 1997.
As a life-long Packers fan, thank YOU, Steve Weatherford, and THANK YOU, DeSean Jackson! – Kevin O'Brien
Green Bay Packers at Chicago Bears
December 29, 2013
Week 17
Prior to Aaron Rodgers breaking his collarbone against the Bears in Week 9, the Packers were 5-2 and ready to make another run at the Super Bowl. After Rodgers went down, a rotating cast of quarterbacks – Matt Flynn, Scott Tolzien, Seneca Wallace (!!) – combined to start the next seven games. Green Bay went just 2-4-1 in that span but pulled off narrow wins over Atlanta and Dallas down the stretch to hang around in a then-horrific NFC North. With Rodgers set to return in Week 17, all the Packers needed to do was win in Chicago to secure a division title and playoff berth.
The game itself was fairly high-scoring, but it wasn't pretty. Rodgers threw two picks and was sacked three times. Eddie Lacy carried 21 times for just 66 yards. One of Green Bay's touchdowns came via a Jarrett Boykin fumble return in the second quarter. The Packers' final drive, which began at their own 13-yard line with just under six-and-a-half minutes to go, was equally ugly. Over the course of 14 plays – and nearly six minutes – Green Bay gained only 39 yards – needing two key 4th down conversions to do so. Facing another 4th down with 46 seconds to go, Rodgers scrambled left to avoid the blitz, set his feet, and fired a deep ball to a somehow wide open Randall Cobb, who brought it in breadbasket-style as his momentum carried him into the end zone draped by a Bears defender.
Was it more of a complete breakdown by the Chicago secondary than a great route by Cobb? Sure, it was like 90/10. But Cobb clearly recognizes the coverage right away and throws his hand up after he gets off the line. It was as memorable an end to a regular-season game – or a regular season, for that matter – as I can remember. The call by Joe Buck is fantastic, as is the Packers' radio call (even if Larry McCarren definitely called Cobb "Brandon Cobb") – Nick Whalen
Baltimore Ravens 29 vs. Minnesota Vikings 26
December 8, 2013
Week 14
These were not good teams. Joe Flacco (non-playoff edition) and Matt Cassel were the starting quarterbacks in this game. Baltimore was a flimsy 6-6 team going into this game and Minnesota was just trying to get to the end of a 5-10-1 season and was 3-8-1 entering this one.
The game? It wasn't good either. Until it was...
After the first three quarters farted out a combined 13 points, something happened. One of the most exciting finishes to any game ever sprung up out of nowhere through the snow and the wind. It started with a touchdown pass to Dennis Pitta on fourth down with 2:05 to go to put the Ravens up 13-12. That was the start of what would be a 36-point avalanche with five lead changes.
Side note: I took a screenshot after the aforementioned Pitta touchdown to point out one of my favorite parts of watching these old games: Seeing old stat lines.
Look at the beauty Buffalo rookie E.J. Manuel had on that fine Sunday!
Anyway, back to the craziest two-minute stretch I can remember.
There wasn't just a Toby Gerhart 41-yard scamper to put the Vikings back in the lead. There was also a Jacoby Jones kickoff return for a touchdown, a Cordarelle Patterson 79-yard touchdown catch, and a last second laser to Marlon Brown.
As a Georgia student at the time, I thought former Bulldog Marlon Brown was about to be my favorite Raven ever. It didn't quite pan out that way, but he still has folk-hero status in my book for catching the game winner.
I'd recommend watching the whole game just on the basis that snow games are high on the entertainment value scale. But if you'd rather skip to the good part, head on to the 6:32 mark in the fourth quarter. That's the start of the scoring drive that sparked the wild ending. – John McKechnie
Miami Dolphins 27 at New England Patriots 24
December 29, 2019
Week 17, 2019

Call it recency bias or an overzealous affinity for Ryan Fitzpatrick in the teal and orange, but last year's season finale stands tall among Miami's best games of the decade. For a Dolphins team that began the regular season 0-7 to conquer a New England squad that boasted an undefeated record at that same midseason point seemed untenable. Undeterred, coach Brian Flores wasted no time in emptying the playbook, as the team's first possession ended in a failed punt. Were it not for Isaiah Ford working magic, the team's second possession would've also died due to an ill-conceived trick play – instead, the former seventh-round pick Houdini'd his way out of a tackle attempt by Deatritch Wise, abandoned the pass and scrambled for a messy first down.
One field goal later, an easy pick-six by Eric Rowe of his former teammate gave MIA a shocking 10-0 lead.
That didn't last, of course, as the Brady-led Pats tied things up before halftime, setting the stage for a back-and-forth slugfest. Fitzpatrick came out of the gates with a rally of big plays culminating in a two-yard scramble for a score, and Brady responded with a sneaky TD pass to linebacker/fullback Elandon Roberts. Such an exchange of blows dominated the second half, as each offense was made to fight for every yard they gained, until James White seemingly put the game away by scrambling for a TD with 3:53 remaining in the game (and as a supporter of O-line recognition, I'd be remiss not to highlight the devastating block Shaq Mason laid out to make White's score possible).
What came next was some of the finest work of Fitzpatrick's career, as he made a series of clutch throws – including a jump ball to DeVante Parker, who put up 137 yards while matched up against DPOY Stephon Gilmore – to march the offense systematically down the field. Fitzmagic's waltz came to a head via a tight-window TD pass to Mike Gesicki, sealing the contest with 24 seconds remaining.
The Dolphins first win in New England in 11 years also served to knock the Lombardi-regulars down to the wild card round for the first time since 2009, delivering the sweetest triumph a fanbase that hasn't tasted a Super Bowl since '74 could ask for. We'll see if Miami can ride that momentum into 2020, with the Brady/Belichick reign gone from the AFC after two long decades. –Ilango Villoth
Cleveland Browns 41 at Kansas City Chiefs 34
December 20, 2009
Week 15
In Week 15 of the 2009 season, the Colts rallied to beat the Jaguars on Thursday to remain undefeated, and the Cowboys upset the Saints in New Orleans on Saturday to hand them their first loss of the year. The Colts and Saints would later meet in the Super Bowl that year. But I still vividly remember a game between the 2-11 Browns and 3-10 Chiefs during that same week. It was the semifinals of the fantasy playoffs, and I was starting both RBs in this game, the Browns' Jerome Harrison and the Chiefs' Jamaal Charles. Both were backups to begin the season, behind Jamal Lewis and Larry Johnson respectively.
Of course, Harrison went nuts in this game, running for 286 yards and three touchdowns, leading the Browns to a 41-34 victory, while Charles had 154 rushing yards and a touchdown in his own right. Harrison followed his big game up with two more strong games in Week 16 and 17, going for 148 yards and a touchdown against the Raiders and finishing with 127 yards and a touchdown in the finale against the Jaguars. The Browns finished the year with four straight wins under Eric Mangini to finish 5-11. Harrison's reward for his huge stretch run? The Browns merely gave him a one-year tender, and drafted Montario Hardesty in the second round as his replacement.
Other notes from this game:
- Brady Quinn was the Browns' QB and was awful all season, and especially so in this game. He was 10-of-17 for 66 yards and two interceptions. The Browns came into this game last in the NFL in passing offense and total offense.
- Josh Cribbs returned not one but two kickoffs for touchdowns in this game, as Todd Haley finally stopped having the Chiefs kick deep in the second half.
- Matt Cassel was the Chiefs' starting QB and was only mediocre - getting bailed out early by Chris Chambers on two plays. But the Chiefs' receiving corps was truly awful - Dwayne Bowe returned from a suspension that year and was a drop machine for the season, and in this game in particular. At one point Chiefs receivers had five consecutive drops in the third quarter, and eight total for the game.
- During the broadcast the announcers were discussing whether Jamaal Charles was a suitable NFL starter at RB, or would the Chiefs address the position in the draft.
- There were a sea of empty seats at Arrowhead, as the Chiefs had their first non-sellout in 161 games, dating back to 1990. –Jeff Erickson
Kansas City Chiefs 51 vs. Los Angeles Rams 54
November 19, 2018
Week 11
Many of our current iterations of this brilliant series feature games of personal admiration to the writer. But when I was thinking of fantastic overall games, my mind immediately went to the Monday Night showdown between the Chiefs and Rams two seasons ago.
It was easily the highest scoring MNF contest ever and was the third-highest scoring game in NFL history. The matchup also included 21 points scored on defense and featured four fourth-quarter lead changes. Both the Rams and Chiefs would make Super Bowls in each of the next two seasons, and we even had unintentional comedy throughout in the form of Jason Witten, Booger McFarland and Gene Steratore continuing their weekly episodic destruction of intelligent and engaging ways to call a football game.
In short, it should have had everything needed to be the best regular season game of all time.
But yet, after two separate rewatches – both on the condensed version, and also the live broadcast - I couldn't help but nitpick the distinction.
The positives, of course, were numerous. 11 touchdown drives lasted three minutes or less, and of those 11, six were scored in which the Rams or Chiefs managed to run six or more plays in the drive. Patrick Mahomes continued his season-long demolition of defenses, uncorking a number of throws that had me literally utter some sort of cross between a grunt and chuckle on numerous occasions. And the likes of Tyreek Hill, Travis Kelce and Aaron Donald all had their obvious, eye-popping moments.
Yet, I can't help but think about what this game could have been, if not for 21 penalties called throughout the affair, combining for 195 yards. You'd think with the crazy amount of action and absurd scoring, the pace of the game would have been refreshingly fast. Star of the show, head official Clete Blakeman, the same man who rightfully called hands-to-the-face penalties on Trey Flowers completely dictated the outcome in last season's Monday Night contest between the Packers and Lions, and his "all-star officials" made sure that wasn't possible. It got so bad, I was convinced Blakeman had residual Cheeto dust on his fingers for the entire first half after seeing his hands on numerous occasions.
Tell me I'm wrong based on this image.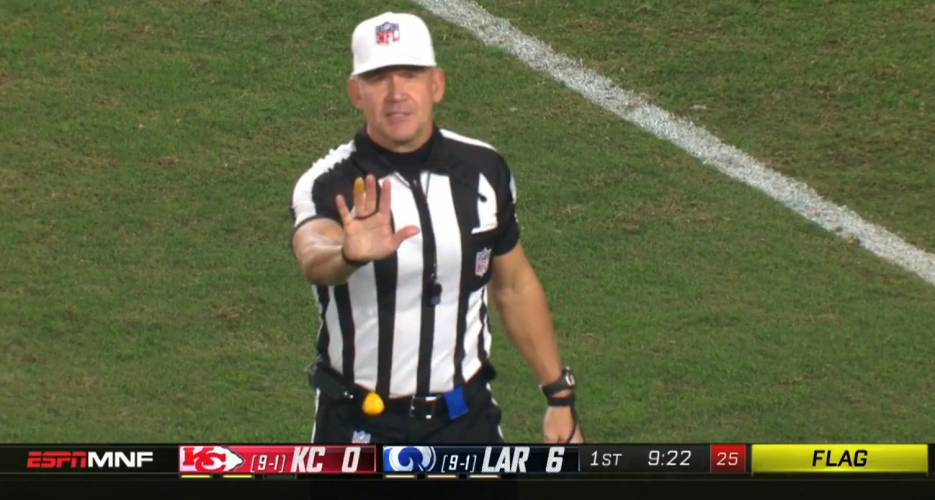 The game being played in Los Angeles instead of Estadio Azteca likely played a part in this type of dysfunction, but regardless, it was hard to be entirely impressed with the disjointed nature of the game. The fact former Packers standout, Sam Shields, was forced to play significant snaps in this battle should also be a knock against this "classic", but my 2010s Packers nostalgia would prove to be blinding. Not coincidentally, Tyreek Hill piled together 88 receiving yards and a touchdown in the first three drives with Shields covering him almost exclusively. If there's one takeaway I want you to have from this game, it's to attack your likely (please, make sure you stay inside!) quarantined life with the same ferocity that Samson Ebukam had after recording a pick six off Mahomes to put his team ahead in the third quarter.
Yes, that's Ebukam perched over the soon-to-be MVP's face, likely having a calm discussion about the appropriate time to apply ketchup to respective cuisines. –Joe Bartel