This article is part of our East Coast Offense series.
Bad Stats Arguments
I saw the following on Twitter last week: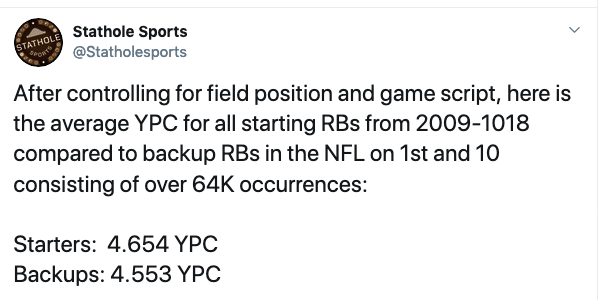 The point of the post was to demonstrate that running backs don't matter. After all, if starters (the good players) are on average barely a tenth of a yard per carry better than backups (the scrubs), then it doesn't matter whether your running back is a good player or a scrub.
Let's leave out the issues not covered like pass-catching and blocking ability, and whether the marquee backs see heavier boxes because the defense knows who's a starter and who's a backup, i.e., you could see how defenses might devote more resources toward stopping Saquon Barkley than Wayne Gallman. In fact, my point isn't to show that running backs matter – even though I believe they do – but to highlight the flaw in this argument generally.
The fallacy with taking the average of all starters and backups and concluding something generally about the importance of running backs is best summed up by a Nassim Taleb quote, something to the effect of "Never cross a river that's on average four-feet deep." The average depth doesn't prove crossing it is safe, and the average difference between starter and backup doesn't prove that running backs don't matter.
If we conceive of running back talent – and talent at every position for that matter – as distributed in a bell curve shape with a few total scrubs at one end who don't wind up getting many snaps in the league and a few superstars at the other, the vast majority, the fat part of the curve, is made up of roughly average players. Those average players, whether starters or backups, do not matter much. They're largely replaceable by other average players, and they make up the bulk of the starter/backup data set cited above.
But the star backs – peak Jamaal Charles, Marshall Faulk, Jim Brown, etc. – at the tail end of the curve are not replaceable, but there are so few of them, they don't move the average. Again, we can quibble about what a star back is worth vs a star wideout or QB – I'm less interested in that specific debate today – but simply want to point out the error of using averages to make this kind of point.
The fallacious argument isn't restricted only to dunking on old school types who care about running backs, either. It's been used to argue that fantasy kicker scoring is random, so you should never take one until the last two rounds – also false. While on average it might be random, I'm happy to bet anyone even money Justin Tucker will be a top-seven kicker in any given year. The same argument had been made for stats like BABIP and HR/FB in baseball. What a coincidence Mariano Rivera leads all players with 1000 IP over the last 25 years in both metrics! How lucky he must have been, given that on average those metrics are pure luck!
Even more pernicious, these arguments have seeped into economics and public policy making, but that's beyond the scope here. Bottom line, what's true on average is by no means true with respect to individual cases. If you see someone using the mean as way to establish a conclusion about an entire population, you should recognize it for the sophistry it is.
Week 8 Trivia
Apropos of Lamar Jackson's massive rushing game against the Seahawks, can you name all the quarterbacks since 1980 to average more than 40 rushing yards per game (min five games)?
Guessing The Lines
| | | | | | | | | |
| --- | --- | --- | --- | --- | --- | --- | --- | --- |
| Game | My Line | My Early Line | Guessed Line | Actual Line | ML-AL | O/U | Actual O/U | MO-AO |
| Redskins at Vikings | 13.5 | 13.5 | 14 | 16 | 2.5 | 44 | 42 | 2 |
| Seahawks at Falcons | -6.5 | -2.5 | -5.5 | -3.5 | 3 | 52 | 49.5 | 2.5 |
| Broncos at Colts | 6.5 | 6.5 | 7 | 6 | -0.5 | 42 | 44 | -2 |
| Buccaneers at Titans | 3 | 0 | 3.5 | 2.5 | -0.5 | 46 | 46.5 | -0.5 |
| Cardinals at Saints | 10.5 | 8 | 10.5 | 9.5 | -1 | 45 | 48 | -3 |
| Bengals at Rams | 10.5 | 9.5 | 11 | 13 | 2.5 | 48 | 48.5 | -0.5 |
| Eagles at Bills | 0 | 0 | 3 | 1.5 | 1.5 | 39 | 43 | -4 |
| Chargers at Bears | 3.5 | 4.5 | 4 | 4.5 | 1 | 41 | 40.5 | 0.5 |
| Giants at Lions | 6.5 | 5.5 | 7 | 7 | 0.5 | 48 | 49.5 | -1.5 |
| Jets at Jaguars | 3 | 3 | 4 | 4.5 | 1.5 | 43 | 41 | 2 |
| Panthers at 49ers | 6.5 | 6 | 6.5 | 5.5 | -1 | 44 | 41 | 3 |
| Raiders at Texans | 4.5 | 3.5 | 5.5 | 6.5 | 2 | 48 | 51.5 | -3.5 |
| Browns at Patriots | 11.5 | 12.5 | 13.5 | 10.5 | -1 | 44 | 46.5 | -2.5 |
| Packers at Chiefs | -7.5 | -3.5 | -6 | -4.5 | 3 | 53 | 48 | 5 |
| Dolphins at Steelers | 12.5 | 13.5 | 14.5 | 14.5 | 2 | 40 | 43 | -3 |
I'm having a wretched year against the spread (5-9 again last week), but for the hell of it, I made my early Week 7 lines before Week 6, and those went 10-2-2 (pushes for the ones that were on the exact number.) I did it again last week with two exceptions (I missed the Eagles-Bills on the first pass, and I did it after the Thursday night game, so my Broncos and Chiefs lines would have been much different), so I'm running the experiment again.
As of now, I like the Packers and Seahawks especially, but I reserve the right to change my mind in Beating the Book.
Week 7 Observations
• I had the Eagles plus three, and the Sunday night game was over before it started. The Eagles couldn't protect Carson Wentz, and that was mostly the difference. No Eagles receiver had more than five targets.
• The Saints are the best team in the NFL. Without Drew Brees and Alvin Kamara, they were up 26 in the fourth quarter in Chicago despite missing two field goals, allowing a kick return TD and having their own punt return TD called back. The Bears got two garbage time TDs late apparently, but I had stopped watching by then.
• Michael Thomas doesn't care who the QB or the opponent is. Teddy Bridgewater — with that line and set-up — isn't a huge downgrade from Brees these days.
• What's gotten into Wil Lutz, previously one of the league's best kickers?
• Despite the garbage time production, Mitch Trubisky had 4.6 YPA. He's a poor man's Blake Bortles, though Allen Robinson would be the expert on that.
• Mark Andrews' uncharacteristic drops killed me in fantasy. What made it worse was I faced Lamar Jackson who got the TD instead. Jackson might be a top-five NFL runner (not top-five running QB), and he's a good enough passer given his running skills.
• The Ravens defense clamped down on Russell Wilson and Chris Carson, something that's not easy to do, especially in Seattle. Maybe they were overrated early, but well-coached teams have a way of coming around.
• I had the Chargers plus two, and they briefly went ahead 27-23 before the Austin Ekeler TD was reviewed and ruled a half yard short, before their false start put them back to the six until the PI got them back to the one, until Melvin Gordon got the hand-off and fumbled just short of the goal line, before the 10 minute review confirming that.
And all that was after Ryan Tannehill was ruled short on a fourth-down sneak which seemed to have gotten the first down, but Mike Vrabel for God knows what reason didn't challenge the call.
• But it's on me for not realizing Tajae Sharpe's team would cover against Damion Square's.
• Tannehill actually looked competent like he did at times on the Dolphins. Maybe he can breathe some life into the passing game with A.J. Brown and Corey Davis.
• Gordon had a tough match-up, struggled and ultimately cost his team the game while Austin Ekeler led the team in receiving.
• The Rams annihilated the Falcons, but surprisingly weren't able to run the ball with Todd Gurley or Darrell Henderson. Matt Ryan hurt his ankle and could miss time, pending an MRI, but now we at least realize Matt Schaub is still in the league.
• The Dolphins made a game of it against the Bills, before their onside kick was returned for a TD to push the margin to 10. The Bills are decent, but shouldn't have been 17-point favorites against anyone.
• I didn't watch any of the Bengals-Jaguars except the highlight of Andy Dalton's pick six that killed my last hopes for a cover. I didn't want to be on the Bengals, but that's where my stupid pre-game lines put me by half a point.
• I also wanted to take the Vikings, so I made the line a pick 'em, thinking the Lions would be a small favorite. Wrong. The Vikings were a small favorite, and I was stuck with Detroit who couldn't get to Aaron Rodgers the prior Monday night.
• Kirk Cousins had his third straight huge game — another 337 yards and four TDs. Like all QBs Cousins is much better when he's not under pressure, but for him the splits seem extreme. So much for Detroit's supposedly great pass defense, and keep in mind the Vikings' best receiver, Adam Thielen, got hurt in the first quarter.
• Marvin Jones caught four TDs and dropped a fifth — focus on the drop if he was on your bench.
• Aaron Rodgers had a game for the ages — without Davante Adams — 13.8 YPA, five TD passes, 429 yards and a rushing TD. I had Marquez Valdes-Scantling on my bench, but in my defense, he did his damage on only three targets. Maybe the Matt LaFleur offense is coming together.
• Darren Waller is a top-five TE right now, and you could put him as high as No. 1 — until Patrick Mahomes returns.
• The Colts have lost only two games, one in overtime to the Chargers because Adam Vinatieri missed two field goals and one at home to the Raiders. I'm not sure what their ceiling is, but their floor with Jacoby Brissett and Frank Reich is high. They're the poor man's Saints.
• Will Fuller got hurt again, this time in the first quarter. DeAndre Hopkins got his, but it was mostly dink and dunk with Kenny Stills making the big plays.
• It was frustrating to root for the Giants, have them minus three and have Kyler Murray going in fantasy, only to see Chase Edmunds go off for three easy rushing TDs. The Giants defense — aside from allowing long runs to Edmunds early — wasn't terrible and largely corralled Murray.
• Daniel Jones looked fine to me, but he held the ball too long a couple times, resulting in two lost fumbles. But the bigger story were a couple terrible drops (Evan Engram's in particular) and atrocious offensive line play, especially on the game's final series. The Giants should have an above average line given its health and the investments they've sunk into it, but it's bottom 10 right now.
• The Giants run blocking wasn't any better — Saquon Barkley had some big gains on the rare occasion he found a hole, but was also trapped behind the line of scrimmage too often. Barkley didn't help his cause by dancing too much and running backwards, either. Barkley also seemed to aggravate his ankle injury on a play, had to leave the game, but later returned.
• The Niners-Redskins was a waste of a game. I had Niners minus 10, but I didn't realize weather would neutralize it into an arbitrary slog.
• Tom Brady stayed in nearly the entire game, but didn't have to do much except spread around short passes. Sony Michel dropped a short pass, didn't have room to run, but scored three times. Julian Edelman had targets and three carries, but his longest play was 14 yards.
• Sam Darnold had an all-time bad game. He completed 11 of 32 passes for 86 yards (2.7 YPA) with four picks. He also lost a fumble. Worse, many of his incompletions and picks looked like they were thrown without regard to whether he had a receiver in the area — just tossed up for grabs at random.
• Le'Veon Bell seemed like the only good player on his team — though it was odd how little he was used in the passing game.
• The Patriots defense is a fantasy football cheat code this year. Their schedule has been cake, but they deliver like a first-round running back every week. I'd love to see them matched up against a good offense, but you can only play the hand you're dealt.
• I lost one match-up by less than a point as the other owners had Brady. I don't even want to think about what play in the fourth quarter, while the Pats were up 33-0, did me in.
• I love that Bill Belichick, up 33-0 in the fourth quarter, challenged a short catch by Jamison Crowder. As though he were trying to deny them even the most minute success. And keep in mind the Patriots won't even see this team until next year, at which point it might have a different head coach.