Valencia at Efes
Date: 3/13
Time: 7:00 AM IST
Game Preview
Valencia travels to Turkey for a Round 29 matchup that could have important ramifications on the playoffs. Efes secured home-court advantage in the first round last week and will be looking to move a game closer to locking up first place. Valencia, on the other hand, sits in a five-way tie for 9th place and is still just one game outside of the playoff picture despite a recent four-game slide over which they were outscored by just 19 total points. Bojan Dubljevic is the team's offensive nucleus and has contributed a healthy 14.2 points and 6.5 rebounds per game. Sam Van Rossom, who was sidelined for the past six Rounds due to a hamstring injury, is healthy and should provide a boost in the backcourt. The Spanish squad will also look to Mike Tobey andAlberto Abalde to shore up the offense around Dubljevic. Efes, which boasts a 24-4 overall record, has been utterly dominant this year. They have outscored opponents by nearly 10 points per game and boast the league's top offense at 87.3 points per contest. Leading the charge is the presumptive MVP Shane Larkin, who is posting a league-leading 22.2 points per game while shooting a ridiculous 53.0 percent from the field, 50.9 percent from three and 90.3 percent from the line. He's aided by star point guard Vasilije Micic, who's generating 14.5 points, 2.3 rebounds and 5.8 assists a night. The team also features recent returner Bryant Dunston, Krunoslav Simon and Rodrigue Beaubois, all of whom average at least 8.5 points per game. Last time these teams squared off, way back in Round 3, it was a nail-biter, with Efes securing a hard-fought 83-78 victory on Valencia's court.
Injuries
Valencia Basket
Jordan Loyd - OUT - Foot
3/11 10:21 PM IST - Loyd (foot) will not play Thursday against Efes, according to Valencia's official website. It was thought that Loyd would be ready to return to action around the beginning of March, but he is still not ready to play and will not do so at least until the latter part of the month.
Fernando San Emeterio - OUT - Knee
3/11 10:22 PM IST - San Emeterio will not play Thursday against Efes due to a right knee injury, according to Valencia's official website. The extent of San Emeterio's injury is not certain, but it will prevent him from taking the court for the fifth time this season.
Anadolu Efes
None
Valencia Basket Probable Starters
G - Guillem Vives
G - Joan Sastre
F - Alberto Abalde
F - Maurice Ndour
C - Bojan Dubljevic
Anadolu Efes Probable Starters
G - Vasilije Micic
G - Shane Larkin
F - James Anderson
F - Chris Singleton
C - Tibor Pleiss
Top Picks
Shane Larkin, IST - Larkin is in the midst of a breakout season for Efes. He hit the 40-point mark for the second time this season his last time out and on the whole is averaging 22.2 points, 3.1 rebounds, 4.1 assists, 1.3 steals and 3.5 threes per contest.
Vasilije Micic, IST - While Larkin has outpaced Micic in accolades so far, the 26-year-old has been nearly as good. Overall he's averaging 14.5 points, 2.3 rebounds, 5.8 assists, 1.3 steals and 2.2 threes per game.
Bojan Dubljevic, PAM - Dubljevic has been a brutal matchup for opposing frontcourts so far this year. The 28-year-old is putting up 14.2 points, 6.5 rebounds, 1.7 assists and 1.2 threes on the year.
Quino Colom, PAM - While Colom has not the most consistent player, he has excelled over recent Rounds. Over his past four contests, Colom averaged 9.0 points, 2.3 rebounds, 5.3 assists, 1.0 steal and 1.3 threes per game.
Captaincy Options
Dream 11 Team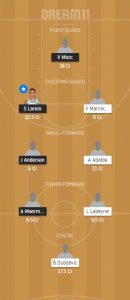 Grand League Combination
Larkin, Micic, Dubljevic, Moerman
Small League Combination
Larkin, Micic, Dubljevic, Abalde
The author(s) of this article may play in daily fantasy contests including – but not limited to – games that they have provided recommendations or advice on in this article. In the course of playing in these games using their personal accounts, it's possible that they will use players in their lineups or other strategies that differ from the recommendations they have provided above. The recommendations in this article do not necessarily reflect the views of RotoWire.