Fenerbahce at Khimki
Date: 3/6
Time: 6:00 pm CET
Game Preview
Two teams in the thick of the playoff race square off in a big Round 28 matchup. Fenerbache, winners of two straight, travels to Moscow to take on a high-powered Khimki offense. Fenerbahce boasts a deep rotation that includes a number of capable players. They will be down one of them Friday in Kostas Sloukas, but top scorer Nando de Colo will still be on hand. Without Sloukas, Melih Mahmutoglu and Leo Westermann – two veterans – will be called upon to step up. Derrick Williams is the team's best option at the forward positions and reigning MVP Jan Vesely has returned to form over the past couple Rounds after a tough start to the season. The Turkish squad currently sits in the seventh spot but is a mere game ahead of four teams competing for the final playoff spot. The opponent, Khimki, which dropped a pivotal Round 27 game to Zalgiris, is one of those teams. Owners of arguably the best offense in the league, the Russian crew is headed by Alexey Shved, who is posting 21.4 points and 6.2 assists per game. He's aided by Janis Timma, Devin Booker, and Jonas Jerebko, who all average at least 11.0 per contest. While Khimki is more than capable on the offensive end, they are allowing 86.1 points per contest – the second-worst mark in the league. Last time these teams faced off in Round 11, Fenerbahce notched an 89-76 victory behind 20 points from Luigi Datome.
Injuries
Khimki
Jeremy Evans - OUT - Foot
2/11 10:43 PM IST - Evans, who has been out since Jan. 23 with a foot injury, is expected to resume practicing in early March, according to Izvestia. It was initially feared that Evans would miss the rest of the season with his injury, but he is apparently not dealing with as serious a setback as believed. Evans will miss several more EuroLeague games, but he is on track to make it back for at least the final few games of the current campaign.
Petr Gubanov - OUT - Undisclosed
11/30 10:12 PM IST - Gubanov is with the Russian National Team for this weekend's FIBA qualifiers and will not be available for Khimki's Round 10 EuroLeague matchup with Panathinaikos, according to euroleague.net. Gubanov averaged 17 minutes per game in Rounds 4 and 5, but he has not seen EuroLeague action since, so his absence should not affect the rotation Khimki has been using of late.
Sergei Monia - GTD - Undisclosed
3/3 11:25 PM IST - Monia (undisclosed) will not play Tuesday against Zalgiris, according to Khimki's official Twitter account. Monia will miss a third straight EuroLeague game. It remains to be seen if he will play in his club's next EuroLeague contest Friday, but he will have only a few more days to rest and recover.
Timofey Mozgov - GTD - Knee
3/3 11:24 PM IST - Mozgov (knee) will not play Tuesday against Zalgiris, according to Khimki's official Twitter account. Mozgov was recently added to Khimki's EuroLeague roster, but he is not ready to play just yet.
Fenerbahce Dogus Istanbul
James Nunnally - GTD - Shoulder
3/5 3:17 AM IST - Nunnally (shoulder) could return to action Friday against Khimki, according to eurohoops.net. Nunnally is expected to travel with Fenerbahce for Friday's away game, but it sounds like a final decision regarding his availability for Round 28 will not be made until game day.
Kostas Sloukas - OUT - Knee
3/5 3:15 AM IST - Sloukas (knee) will not play Friday against against Khimki, according to eurohoops.net. Sloukas was unable to play Wednesday against Red Star because of his injury, and he will miss Friday's game for the same reason. It remains to be seen how long he will be sidelined, but he will have over a week to rest and recover before Fenerbahce's Round 29 matchup with Panathinaikos.
Fenerbahce Dogus Istanbul Probable Starters
G - Nando de Colo
G - Leo Westermann
F - Derrick Williams
F - Nikola Kalinic
C - Jan Vesely
Khimki Probable Starters
G - Alexey Shved
G - Stefan Jovic
F - Janis Timma
F - Jonas Jerebko
C - Devin Booker
Top Picks
Alexey Shved, KHI - Shved did not play last time these teams matched up, and he will clearly be a difference maker – one way or another. Shved can be a bit loose with the ball and unafraid to shoot at times, but he is also second in the league in scoring at 21.4 points per contest and has reached double figures in every game he has appeared in this year.
Nando de Colo, ULK - de Colo did not play in Round 11, either, and like Shved his presence alone will be a big boost for Fenerbahce. de Colo averaged just 9.6 points over the last five games, but he put up 17.9 ppg prior to that, so he has the potential to put up big numbers.
Derrick Williams, ULK - Williams has provided efficient offensive play throughout the year. Overall he's averaging 11.3 points, 3.9 rebounds, 1.2 assists, 1.1 steals, and 1.6 threes per game while shooting 49.5 percent from the field and 37.5 percent from behind the arc.
Devin Booker, KHI - Booker has anchored Khimki's frontcourt throughout the season. Overall, he is posting 11.4 points, 4.9 rebounds and 1.2 assists per contest.
Jonas Jerebko, KHI - Jerebko has really come on of late, averaging 17.4 points, 8.4 rebounds, 1.6 assists, 1.0 steal, and 1.4 three-pointers made over the last five Rounds.
Captaincy Options
Dream 11 Team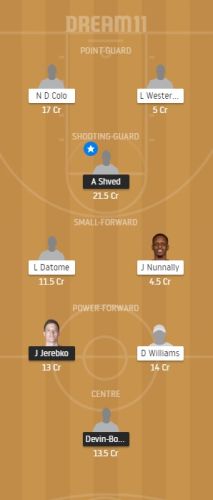 Grand League Combination
Shved, de Colo, Jerebko, Williams
Small League Combination
Shved, de Colo, Booker, Jerebko
The author(s) of this article may play in daily fantasy contests including – but not limited to – games that they have provided recommendations or advice on in this article. In the course of playing in these games using their personal accounts, it's possible that they will use players in their lineups or other strategies that differ from the recommendations they have provided above. The recommendations in this article do not necessarily reflect the views of RotoWire.