Real Madrid at Milan
Date: 3/3
Time: 8:45 pm CET
Game Preview
In a pivotal Round 27 matchup, Milan, which has dropped four straight in league play, hosts a red-hot Real Madrid team that is tied for second overall at 20-6. Few people will witness the matchup, though, as due to concerns about the Coronavirus the game will be played without any fans or media in attendance.
With their season potentially hanging in the balance, Milan will hope that Sergio Rodriguez, their star point guard, is able to play after being forced to leave the team's last EuroLeague game with a couple leg injuries. As he's been the team's most consistent player throughout the year, it would be a monstrous loss if he were held out, which it seems he will be. Apart from Rodriguez, Milan boasts a well-rounded squad that features depth at all positions. Vladimir Micov, averaging 12.0 points per game on the season, solidifies the backcourt, while Luis Scola and Kaleb Tarczewski, who average 9.5 and 8.3 points per game, respectively, anchor the frontcourt. The duo of Keifer Sykes and Drew Crawford played well last time out and will be counted on for more if Rodriguez sits.
The opponents from Spain feature one of the league's best defenders in Walter Tavares, who is easily leading the league in blocks. Despite missing leading scorer Anthony Randolph, Madrid has hummed along on offense with Jaycee Carroll taking on a larger role. Facundo Campazzo, averaging 10.3 points and 7.3 assists on the season, provides a steady hand at point. Madrid will be without four players in addition to Randolph, and it's likely they will lean on Trey Thompkins and Rudy Fernandez more than usual.
Last time these teams met up, in Round 14, Milan jumped out to a healthy first-half lead before limping down the stretch, ultimately falling to Madrid by a score of 76-67. If they are able to bring the same effort, there's a chance that they could hand Madrid its first loss since Round 21. That will be a tough task, though, should they play the game without their best player and their usual home-crowd support.
Injuries
Real Madrid
Fabien Causeur - OUT - Undisclosed
3/2 9:29 PM IST - Causeur (undisclosed) will not play Tuesday against Milan, according to Javier Rodriguez of Planetacb. Causeur was able to play in Madrid's domestic league game Sunday, but he has not practiced much lately as a result of the injury that kept him out of Madrid's last EuroLeague game, and will be held out of Tuesday's contest for maintenance purposes. With a couple more days of recovery time, it seems likely Causeur could play in Madrid's next EuroLeague game Thursday against ASVEL.
Gabriel Deck - OUT - Elbow
3/2 9:26 PM IST - Deck will not play Tuesday against Milan due to an elbow injury, according to Javier Rodriguez of Planetacb. It's not clear how long Deck will be out, but his injury will cost him one EuroLeague game, and it could cost him more with Madrid playing its Round 28 game just two days after Tuesday's contest.
Sergio Llull - OUT - Upper Leg
3/2 9:25 PM IST - Llull (upper leg) will not play in either EuroLeague on Madrid's schedule this week, according to Javier Rodriguez of Planetacb. It's still not clear how much time Llull will miss because of the injury he suffered in last month's Copa del Rey final, but based on comments from head coach Pablo Laso his return is not imminent.
Jordan Mickey - OUT - Leg
3/2 9:21 PM IST - Mickey (leg) will not play Tuesday against Milan, according to Javier Rodriguez of Planetacb. Mickey was injured a week ago in Madrid's EuroLeague matchup with Panathinaikos, and he will miss at least one EuroLeague as a result. Head coach Pablo Laso did not rule Mickey out beyond Tuesday's game, so he could have a chance to play in the second of two EuroLeague games Madrid plays this week.
Anthony Randolph - OUT - Thumb
2/22 12:12 AM IST - Randolph underwent surgery on his left thumb, according to Madrid's official website. The team did not release a timeline for Randolph's recovery, but with him going under the knife he is looking at an extended absence – one that could cost him the remainder of the regular season.
AX Armani Olimpia Milan
Christian Burns - OUT - Knee
3/2 9:43 PM IST - Burns (knee) will not play Tuesday against Real Madrid, according to Sportando. Burns' injury will prevent him from playing in a third straight EuroLeague game. It's not clear how close he is to taking the court, but he could miss at least one more Round with Milan playing both its Round 27 and Round 28 games in a span of three days.
Sergio Rodriguez - GTD - Leg
3/1 1:48 AM IST - Rodriguez suffered both a left thigh injury and sprained left ankle in Friday's loss to Zalgiris, according to Milan's official website. Rodriguez played 35 minutes before leaving Friday's contest with less than a minute left in overtime. Milan did not provide a timeline for his recovery, but given he is dealing with two injuries consider him questionable at best for the club's next EuroLeague game Tuesday against Real Madrid.
Real Madrid Probable Starters
G - Facundo Campazzo
G - Jaycee Carroll
F - Gabriel Deck
F - Usman Garuba
C - Walter Tavares
AX Armani Olimpia Milan Probable Starters
G - Keifer Sykes
G - Michael Roll
F - Vladimir Micov
F - Luis Scola
C - Kaleb Tarczewski
Top Picks
Facundo Campazzo, MAD - The orchestrator of Madrid's offense, Campazzo is averaging 10.3 points, 7.3 assists, 2.5 rebounds 1.3 threes and 1.3 steals per game. He generated three double-doubles over his past four games and has racked up a whopping 48 assists over that span.
Walter Tavares, MAD - Tavares put up 31 points over the last two games, and he doesn't even need to score to be effective, sitting fourth in the league with 6.88 rebounds per game and first with 2.08 blocks per contest – more than double any player on any team.
Vladimir Micov, MIL - A stellar three-point shooter, Micov is drilling 2.1 threes per game with a conversion rate of 42.1 percent. He's supporting his long-range prowess into averages of 12.0 points, 3.0 rebounds and 2.2 assists per game.
Jaycee Carroll, MAD - Carroll is averaging just 7.3 points per game on the season, but his output has noticeably spiked since Anthony Randolph went down with a thumb injury. In Randolph's absence, Carroll has averaged 19.7 points over three games while shooting 24-of-39 – a sizzling 61.5 percent – from the field. More than half of those shots came from behind the three-point arc.
Captaincy Options
Dream 11 Team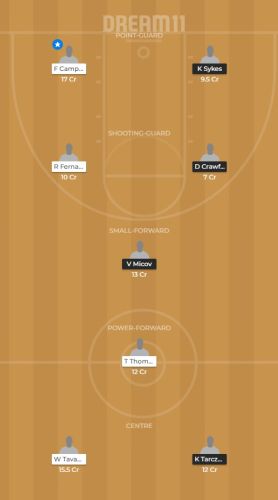 Grand League combination:
Campazzo, Tavares, Micov, Tarczewski
Small League combination:
Campazzo, Tavares, Micov, Carroll
The author(s) of this article may play in daily fantasy contests including – but not limited to – games that they have provided recommendations or advice on in this article. In the course of playing in these games using their personal accounts, it's possible that they will use players in their lineups or other strategies that differ from the recommendations they have provided above. The recommendations in this article do not necessarily reflect the views of RotoWire.