Zenit at CSKA
Date: 3/3
Time: 6:00 pm CET
Game Preview
Round 27 commences with an all-Russian matchup between CSKA and Zenit. To this point of the season, the teams have had diametrically opposed seasons. CSKA, fueled by an exceptional defense, boasts a 17-9 overall record. Zenit, the away team in this matchup, have limped to a 9-17 overall record while struggling on both ends of the floor. The visitors are led by veteran big man Gustavo Ayon, who, despite strong overall contributions, has been unable to elevate his team's play. Will Thomas complements Ayon in the frontcourt and has averaged 10.6 points, 4.0 rebounds and 1.3 assists per game so far. Austin Hollins helps space the floor and is drilling 1.9 threes per game at a 35.1 percent conversion rate. Zenit's major flaw is their lack of a singular point guard. Andrew Albicy has helmed the team for much of the year, but his 35.9 percent mark from the field has significantly limited his effectiveness. Alex Renfroe has been solid and is leading the team with 4.7 dimes per game, but he has been injured and inconsistent. Dmitry Khvostov is now getting a chance to show what he can do. This conundrum will be difficult for Zenit to overcome, particularly as CSKA is headed by an elite point guard in Mike James, who is averaging 21.0 points per game this year – good for third best in the league. He's the linchpin on the offense despite being the central target for opposing defenses. James' primary lieutenants are sharpshooter Darrun Hilliard, a 10.2 point per game performer and Kyle Hines, a defensive wizard who is posting 8.6 points and 4.6 rebounds per contest. Combined, CSKA is scoring nearly 5.5 more points than their opponents and are tied for the fifth-best point differential in the league. The last time the teams met, CSKA ran away with a blowout 87-70 win in Round 6.
Injuries
CSKA Moscow
***Editor's Note - Daniel Hackett will not play in this contest due to a hip injury.
Will Clyburn - OUT - Knee
1/24 10:15 PM IST - Clyburn's recovery from a torn ACL is going as planned, according to CSKA's official Twitter account. The tram did not provide any other details regarding Clyburn's status, but it appears he has avoided any setbacks up to this point. He is still expected to miss the entire season but could be ready for Round 1 when the next campaign begins.
Mikhail Kulagin - OUT - Thigh
2/18 9:48 PM IST - CSKA Moscow ruled Kulagin out indefinitely after he recently suffered a right thigh injury, Eurohoops.net reports. Kulagin was scheduled to join the Russian national team Tuesday for EuroBasket competition, but the injury will thwart those plans. The 25-year-old will be unable to resume training for the foreseeable future, but his absence shouldn't have much of an impact for the Russian club. He's appeared in just one EuroLeague contest this season.
Andrey Vorontsevich - OUT - Ankle
3/3 4:53 AM IST - Vorontsevich (ankle) will not play Tuesday against Zenit, according to CSKA's official website. Vorontsevich has been able to resume working out on his own, but he has not rejoined team drills, so his absence will extend at least one more Round.
Zenit Saint Petersburg
***Editor's Note - Ponitka is now expected to return to action against CSKA.
Mateusz Ponitka - OUT - Ankle
1/27 10:01 PM IST - Ponitka will miss the next six weeks after suffering ligament damage to his ankle joint. Pontika will presumably undergo an operation to repair the lingering ankle issue that had caused him to miss Zenit's Round 21 matchup with Olympiacos. His extended absence will have significant effects on the team's rotation, with either Tim Abromaitis or Andrey Zubkov likely being called upon to slide into the starting five. Moreover, Will Thomas could be counted on to take on a larger role offensively. Barring a setback, Ponitka can be expected to return at some point during the middle of March.
Zenit Saint Petersburg Probable Starters
G - Dmitry Khvostov
G - Austin Hollins
F - Mateusz Ponitka
F - Will Thomas
C - Gustavo Ayon
CSKA Moscow Probable Starters
G - Mike James
G - Howard Sant-Roos
F - Nikita Kurbanov
F - Johannes Voigtmann
C - Kyle Hines
Top Picks
Mike James, CSK - James is having a fantastic season and is producing 21.0 points, 3.4 rebounds, 4.2 assists, and 2.8 threes per game. He scored just 12 points – his fewest since Round 2 – his last time out, so chances are a bounceback is in order.
Gustavo Ayon, DYR - Zenit's top offensive option is averaging 12.9 points, 5.3 rebounds, 2.2 assists and 1.2 steals per game in his age-34 season. He scored 20 points last time these squads faced off.
Will Thomas, DYR - Ayon's frontcourt-mate has posted 10.6 points, 4.0 rebounds, 1.3 assists and 1.0 three per game thus far. He reached double digits in the points column in three of his past four games.
Kyle Hines, CSK - A defensive stalwart, Hines is also a competent offensive player and has generated 8.6 points, 4.8 rebounds, 1.3 assists and 0.9 blocks per game this season.
Captiancy Options
Dream 11 Team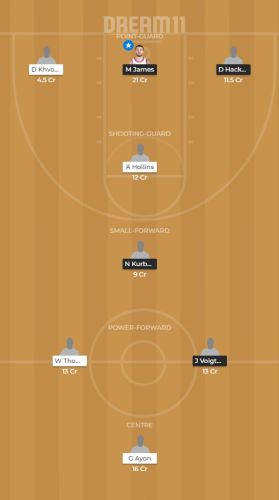 Grand League combination:
James, Ayon, Voigtmann, Hackett
Small League combination:
James, Ayon, Hines, Hollins
The author(s) of this article may play in daily fantasy contests including – but not limited to – games that they have provided recommendations or advice on in this article. In the course of playing in these games using their personal accounts, it's possible that they will use players in their lineups or other strategies that differ from the recommendations they have provided above. The recommendations in this article do not necessarily reflect the views of RotoWire.