ASVEL at Khimki
Date: 2/29
Time: 6:30 AM IST
Game Preview
After joining the playoff discussion with a Round 25 victory over Milan, Khimki faces a tricky matchup against an ASVEL team that defeated them last time these teams played in Round 16.
ASVEL, on the road for a third consecutive game, makes up for the lack of a singular star with a deep rotation that features seven players averaging more than 7.0 points per contest. Adreian Payne, who is averaging 10.3 points and 3.8 rebounds per game, headlines the offense and is the lone ASVEL player to average double figures. He's joined in the frontcourt by Tonye Jekiri, who's offering 8.8 points and 7.5 rebounds per night, and Charles Kahudi, who's chipping in 7.4 points and 3.0 rebounds per contest. The backcourt will be boosted by the return of David Lighty and be led by Jordan Taylor, who runs the show and has contributed 8.0 points and a team-leading 3.9 assists per game. Despite their depth, ASVEL has struggled offensively without a go-to player and has managed to score just 74.1 points per game on the season.
The Russian squad faces the opposite issue. Behind Alexey Shved and his of 21.1 points per game the Russian team boasts the league's third-best offense with a mark of 84.8 points per contest. Unfortunately, they've given up more points than they have scored, allowing opponents to put up 86.0 points per game. Aside from Shved, Khimki possesses several other weapons on the offensive end. Janis Timma, averaging 12.4 points per game, Devin Booker, who's contributing 11.4 points and 5.0 rebounds and Jonas Jerebko, who's posting 10.5 points and 4.2 rebounds per contest, are all capable options.
Despite a strong offensive showing last time around, Khimki's inability to get a defensive stop was integral in ASVEL's 92-88 victory in Round 16.
Injuries
LDLC ASVEL
Charles Galliou - OUT - Undisclosed
2/27 10:45 PM IST - Galliou will not play Friday against Khimki, according to ASVEL's official website. The specific reason for Galliou's absence was not disclosed, but he will be unavailable for Round 26.
Livio Jean-Charles - OUT - Undisclosed
2/27 10:45 PM IST - Jean-Charles will not play Friday against Khimki, according to ASVEL's official website. It's not clear why Jean-Charles will be unavailable for Round 26, but regardless he will miss his first game of the season.
Guerschon Yabusele - OUT - Not Injury Related
2/27 10:47 PM IST - Yabusele will not play Friday against Khimki, according to ASVEL's official website. Yabusele has only been part of ASVEL's roster for a couple days, and the team will give him more time to get acclimated before adding him to the roster. Yabusele figures to make both his team and EuroLeague debuts at some point next week.
Khimki
Jeremy Evans - OUT - Foot
2/11 10:43 PM IST - Evans, who has been out since Jan. 23 with a foot injury, is expected to resume practicing in early March, according to Izvestia. It was initially feared that Evans would miss the rest of the season with his injury, but he is apparently not dealing with as serious a setback as believed. Evans will miss several more EuroLeague games, but he is on track to make it back for at least the final few games of the current campaign.
Petr Gubanov - OUT - Undisclosed
11/30 10:12 PM IST - Gubanov is with the Russian National Team for this weekend's FIBA qualifiers and will not be available for Khimki's Round 10 EuroLeague matchup with Panathinaikos, according to euroleague.net. Gubanov averaged 17 minutes per game in Rounds 4 and 5, but he has not seen EuroLeague action since, so his absence should not affect the rotation Khimki has been using of late.
Timofey Mozgov - OUT - Knee
2/11 10:53 PM IST - Mozgov is headed to Germany to have his knee examined and could be cleared to practice, according to Izvestia. It's been a long road back for Mozgov, but it's possible he is nearing the end of his recovery process. If he is given the "green light" to practice like his agent hopes, he could be ready to play at some point in the coming weeks.
LDLC ASVEL Probable Starters
G - Jordan Taylor
G - Theo Maledon
F - Charles Kahudi
F - Adreian Payne
C - Tonye Jekiri
Khimki Probable Starters
G - Alexey Shved
G - Stefan Jovic
F - Janis Timma
F - Jonas Jerebko
C - Devin Booker
Top Picks
Alexey Shved, KHI - One of the league's premier players, Shved is contributing 21.1 points, 2.8 rebounds, 6.0 assists and 3.1 threes per contest. He was held to just 15 points last time these teams matched up.
Janis Timma, KHI - Timma has reached double figures in all but six games so far. Overall, he's posting 12.4 points, 3.1 rebounds, 1.9 assists, 1.3 steals and 2.8 threes per contest.
Devin Booker, KHI - Khimki's frontcourt anchor has contributed 11.4 points, 5.0 rebounds and 1.4 assists per contest this year. He will be called upon to step up his defensive presence against ASVEL's talented frontcourt.
Adreian Payne, ASV - The lone ASVEL player to average double figures has contributed 10.3 points, 3.8 rebounds and 1.3 threes per contest. He has reached double digits seven times in 11 appearances since Round 15.
Captiancy Options
Dream 11 Team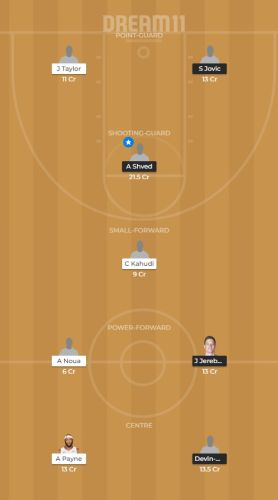 Grand League Combination
Shved, Booker, Payne, Noua
Small League Combination
Shved, Booker, Payne, Jerebko
The author(s) of this article may play in daily fantasy contests including – but not limited to – games that they have provided recommendations or advice on in this article. In the course of playing in these games using their personal accounts, it's possible that they will use players in their lineups or other strategies that differ from the recommendations they have provided above. The recommendations in this article do not necessarily reflect the views of RotoWire.