Crvena Zvezda at Baskonia
Date: 2/27
Time: 9:00 pm CET
Game Preview
Two teams struggling to remain in the playoff picture face off in a high-stakes Round 26 matchup.
Crvena Zvezda, owners of a 10-15 overall record, have dropped six of their past seven and appear to be running out of steam heading into the final quarter of the season. They're led by a well-rounded offensive attack that's headlined by guards Kevin Punter, Lorenzo Brown and Billy Baron. The trio of guards are the teams' top scorers and average 15.9, 12.7 and 11.7 points per game respectively. Vladimir Stimac, averaging 11.7 points and 5.5 rebounds per game and James Gist, who puts 7.0 points and 4.5 rebounds per contest, hold down the paint. The pair will likely face the brunt of Baskonia's attack as they'll be the primary line of defense against Tornike Shengelia. Shengelia is the heart and soul of a Baskonia team that's struggled throughout the year. Despite his offerings of 15.6 points, 5.6 rebounds and 2.8 assists per game, Baskonia's lethargic offense has mustered just 73.4 points per contest. Fortunately, Pierra Henry returned in Round 25 and could provide a nice boost now that he has a game under his belt. Shavon Shields, Semaj Christon and Zoran Dragic will chip in, though it's unclear who will ultimately take the reigns in the backcourt.
Baskonia will try to duplicate their Round 13 win over Red Star, where they notched a 72-64 victory on their home floor.
Injuries
Kirolbet Baskonia
Patricio Garino - OUT - Knee
11/24 12:28 AM IST - Garino has been diagnosed with a torn ACL in his right knee. Garino left Friday's game and was sent to the hospital. It's been determined that he tore his ACL and that surgery is needed.
Jayson Granger - OUT - Achilles
10/1 3:36 AM IST - Granger will miss six months with a torn Achilles tendon, according to euroleague.net. Granger was injured in Baskonia's Spanish League opener, and will face a lengthy recover period after undergoing surgery. Assuming his recovery goes as planned, he should be able to rejoin Baskonia at some point during the second half of their season.
Luca Vildoza - OUT - Shoulder
2/2 12:15 AM IST - Vildoza will undergo surgery on his injured shoulder next week and is expected be out three more months, according to eurohoops.net. Vildoza and Baskonia had been hoping to avoid surgery, but his shoulder did show the necessary improvement, and it was ultimately decided to send him under the knife. Vildoza's recovery timeline effectively rules him out for the season, unless Baskonia really heats up and lands a spot in the Final Four.
Crvena Zvezda mts Belgrade
Derrick Brown - OUT - Coach's Decision
12/26 8:14 AM IST - Brown is no longer part of Crvenza Zvezda's EuroLeague roster, according to euroleague.net. The team has not announced anything in regards to Brown's status, according to Mozzart Sport, but with him being replaced on the roster by Kevin Punter, he will not see action in Round 16 and may not play for Crvenza Zvezda again.
Ognjen Dobric - OUT - Finger
2/20 7:58 PM IST - Dobric is expected to miss at least the next four weeks due to a finger injury, Eurohoops.net reports. The shooting guard has filled a minor role in Crvena Zvezda's rotation this season, averaging 5.1 points and 1.7 rebounds in 13.5 minutes per game during EuroLeague. Based on the timeline laid out for his recovery from the injury, Dobric projects to miss at least six EuroLeague matches.
Charles Jenkins - OUT - Undisclosed
2/27 6:12 AM IST - Jenkins (undisclosed) will not play Thursday against Baskonia, according to Crvena Zvezda's official website. It's still not clear why Jenkins is being held out, but he will miss a second straight EuroLeague game. With details surrounding his absence uncertain, it remains to be seen if he will be able to play in either or both EuroLeague games on Red Star's schedule next week.
Crvena Zvezda mts Belgrade Probable Starters
G - Lorenzo Brown
G - Billy Baron
F - Branko Lazic
F - Marko Jagodic-Kuridza
C - Vladimir Stimac
Kirolbet Baskonia Probable Starters
G - Pierria Henry
G - Matt Janning
F - Shavon Shields
F - Tornike Shengelia
C - Micheal Eric
Top Picks
Tornike Shengelia, BAS - Shengelia remains one of the top players in the league in his age-28 season. So far, he's posting averages of 15.6 points, 5.6 rebounds and 2.8 assists per contest.
Lorenzo Brown, RED - Despite struggling from the field over the past four Rounds, Brown has been Red Star's top overall performer this year. Overall, he's averaging 12.7 points, 4.7 assists, 3.4 rebounds and 1.2 steals per contest.
Vladimir Stimac, RED - Red Star's anchor inside has posted marks of 11.7 points and 5.5 rebounds per game. He'll play a pivotal role as the first line of defense against Shengelia.
Kevin Punter, RED - Punter has reached double figures in each of his nine games with Red Star. While he does little besides score, his average of 15.9 points per game is the best on the team.
Captaincy Options
Dream 11 Team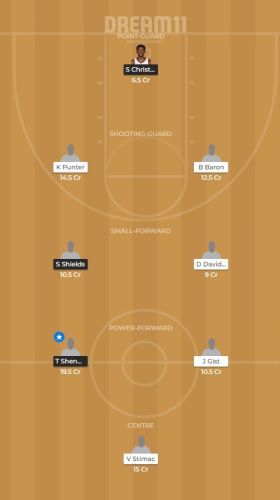 Grand League Combination
Shengelia, Brown, Stimac, Henry
Small League Combination
Shengelia, Stimac, Punter, Shields
The author(s) of this article may play in daily fantasy contests including – but not limited to – games that they have provided recommendations or advice on in this article. In the course of playing in these games using their personal accounts, it's possible that they will use players in their lineups or other strategies that differ from the recommendations they have provided above. The recommendations in this article do not necessarily reflect the views of RotoWire.