Barcelona at CSKA
Date: 2/28
Time: 6:00 pm CET
Game Preview
This Round 26 matchup could have important implications for home court advantage in the playoffs. Barcelona, boasting a 19-6 overall record, travels to Russia to take on a CSKA Moscow team that bears a 17-8 overall mark.
The visiting team is led by star forward Nikola Mirotic, who boasts a complete offensive package and has centered Barcelona's offense throughout the year. Cory Higgins, recently returned from a three-game, has helped form an excellent backcourt alongside Malcolm Delaney. The former is Barcelona's second-leading scorer at 12.0 points per contest, while the latter has chipped in 10.5 points and a team-leading 5.2 assists per game. Brandon Davies and Ante Tomic have provided steady production alongside Mirotic in the post. Barcelona has hummed away on offense to the tune of 84.3 points per game and has allowed opponents just 78.1.
CSKA brings its own star to the game in Mike James, who's third in the league in scoring at 21.3 points per contest. James is aided by a deep rotation that features five players who average more than 7.0 points per game. Darrun Hilliard helps out in the backcourt with his averages of 10.0 points and 2.3 rebounds per game and Kyle Hines anchors the frontcourt with marks of 8.5 points, 4.9 rebounds and 1.4 assists per contest.
CSKA triumphed last time these teams met up, scoring an emphatic 96-67 victory in Round 11. Barcelona has lost just three times since and comes in winners of six straight, though, so Thursday's contest figures to be far more competitive.
Injuries
FC Barcelona Lassa
Thomas Heurtel - OUT - Ankle
2/27 5:38 AM IST - Heurtel (ankle) will not play Thursday against CSKA, according to La Vanguardia. Heurtel will miss another game as a result of the ankle injury he suffered in Round 24. He may not be sidelined much longer, however, as head coach Svetislav Pesic said he is hopeful Heurtel will be able to return to action at some point next week.
Kevin Pangos - OUT - Toe
1/26 6:27 AM IST - Pangos (toe) is still not practicing with his teammates, according to Ernest Macia of Catalunya Radio. It was reported earlier this month that Pangos was getting close to playing, but he has apparently not made much progress since then. Unless he is able to get some work in over the next few days, don't expect Pangos to return to action until after January comes to a close.
Rolands Smits - GTD - Personal
2/22 12:15 AM IST - Smits will be unavailable for Friday's matchup with Panathinaikos for personal reasons, according to Barcelona's official Twitter account. It's not clear how long Smits will be away from the team, but he will not play in Round 25. Smits has played just 13 total minutes since Round 15, so his absence will not have an effect on Barcelona' rotation.
CSKA Moscow
Will Clyburn - OUT - Knee
1/24 10:15 PM IST - Clyburn's recovery from a torn ACL is going as planned, according to CSKA's official Twitter account. The tram did not provide any other details regarding Clyburn's status, but it appears he has avoided any setbacks up to this point. He is still expected to miss the entire season but could be ready for Round 1 when the next campaign begins.
Mikhail Kulagin - OUT - Thigh
2/18 9:48 PM IST - CSKA Moscow ruled Kulagin out indefinitely after he recently suffered a right thigh injury, Eurohoops.net reports. Kulagin was scheduled to join the Russian national team Tuesday for EuroBasket competition, but the injury will thwart those plans. The 25-year-old will be unable to resume training for the foreseeable future, but his absence shouldn't have much of an impact for the Russian club. He's appeared in just one EuroLeague contest this season.
Andrey Vorontsevich - OUT - Ankle
2/27 12:30 AM IST - Vorontsevich (ankle) will not play Thursday against Barcelona, according to CSKA's official website. Vorontsevich will miss a sixth consecutive EuroLeague game while he works his way back from his injury. It's not clear how close he is to returning, so his chances of suiting up for either or both EuroLeague games CSKA will play next week are uncertain.
FC Barcelona Lassa Probable Starters
G - Cory Higgins
G - Adam Hanga
F - Victor Claver
F - Nikola Mirotic
C - Ante Tomic
CSKA Moscow Probable Starters
G - Mike James
G - Janis Strelnieks
F - Nikita Kurbanov
F - Johannes Voigtmann
C - Kyle Hines
Top Picks
Nikola Mirotic, BAR - Mirotic has made a triumphant return to the EuroLeague after an extended stint in the NBA. Through 25 games, he's posting 18.7 points, 6.9 rebounds, 1.4 assists and 1.2 steals per contest.
Mike James, CSK - One of the best scorers in the league, James leads CSKA with averages of 21.3 points, 3.4 rebounds, 4.2 assists and 2.8 threes per contest.
Malcolm Delaney, BAR - Delaney has played an integral role in orchestrating Barcelona's offensive attack. Across 25 games he's averaging 10.5 points, 2.2 rebounds, 5.2 assists, and 2.2 threes per game.
Cory Higgins, BAR - Coming off a three-game absence due to an ankle injury, Higgins dropped 17 points and four assists in Round 25. Overall, he's averaging 12.0 points, 1.9 rebounds and 2.5 assists per contest.
Captaincy Options
Dream 11 Team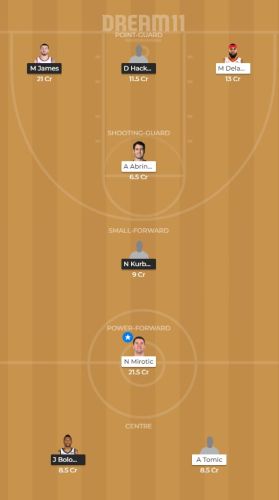 Grand League Combination
Mirotic, James, Higgins, Hilliard
Small League Combination
Mirotic, James, Delaney, Hackett
The author(s) of this article may play in daily fantasy contests including – but not limited to – games that they have provided recommendations or advice on in this article. In the course of playing in these games using their personal accounts, it's possible that they will use players in their lineups or other strategies that differ from the recommendations they have provided above. The recommendations in this article do not necessarily reflect the views of RotoWire.