This article is part of our FanDuel College Football series.
In a week with minimal marquee matchups, it's the Group of Five schools on the slate that are expected to head the fantasy landscape. UCF has ascended to the top of the pile for implied score, slotting in with an expected 46.3 points against Houston. Michigan owns the second-highest total at just 38.5. The UCF-Houston game ranks second in over-under (70.5), with another game featuring group of five matchup (Memphis-SMU) topping the over-under charts (71.0). After those two contests, the next highest expected combine score comes from Oregon-USC at just 62.0.
Week 9 Review
QB
Jalen Hurts, Oklahoma

($11,800): 47.4
Trevor Lawrence, Clemson

($9,500): 27.2
Max Duggan, TCU

($7,500): 31.1
RB
Najee Harris, Alabama

($9,500): 20.6 (exited early with injury)
Pooka Williams, Kansas

($9,100): 10.3
Isaiah Spiller, Texas A&M

($7,500): 16.8
WR
Justyn Ross, Clemson

($8,000): 8.0
Tylan Wallace, Oklahoma State

($8,900): 23.1
Taye Barber, TCU

($5,500): 11.9
(Wild Card): Mikel Barkley, TCU

($4,500): 0
DFS Tools
Matchup Info
Link to matchup chart for sorting/research purposes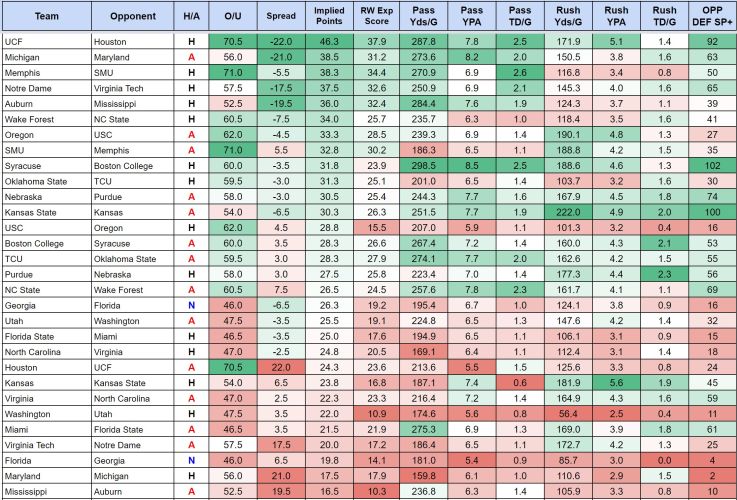 Note: RotoWire expected scores are generated by a mathematical equation excluding special teams and points directly off turnovers (from what I understand).
Week 10 Plays
Quarterback
Dillon Gabriel, UCF

($9,400) vs. Houston
Gabriel gets the perfect matchup this week against a Houston defense allowing the second-most fantasy points per game to opposing quarterbacks (27.8), including 287.8 passing yards per game, 7.8 yards per pass and 2.5 passing touchdowns per contest. The only concern with Gabriel surrounds the game script, with the Knights owning the largest spread on the slate (-22). The UCF defense has proven vulnerable this season, however, surrendering no fewer than 21 points over the last six games, so this game could stay close long enough for Gabriel to rack up fantasy points. There may be a cap on his scoring of around 30, a mark he has only surpassed once this season, but there aren't any options on the board this week who consistently top that total.
Max Duggan, TCU

($8,400) at Oklahoma State
Duggan has seen his price rise from $7,500 last week up to $8,400 for Saturday's slate. The Cowboys may not be quite the matchup darling that Texas was a week ago, but it's not too far off. Duggan is coming off of his best two games of the 2019 campaign, which is largely a product of his willingness to pull the ball down and run. Over the last two games, the freshman signal-caller has accounted for a combined 187 rushing yards and two touchdowns. He's also coming off 273 yards passing versus the Longhorns and has a full complement of wideouts with Taye Barber back in the mix.
GPP Play: Tommy DeVito, Syracuse

($7,100) vs. Boston College
DeVito's performance under center of late doesn't inspire much confidence, even in a price tag as cheap as $7,100. When we dive a little deeper into the previous matchups, however, there is reason to believe a big showing may be on tap. In the last six weeks, five of the opponents have sported a defense with an SP+ of 63 or better. In the only game where the opposing defense fell beyond that mark, Western Michigan at a 103 SP+, DeVito posted his best game of the season, throwing for 287 yards and four touchdowns. Boston College's defensive 11 fall in an almost identical spot at 102 in the SP+ rankings and are coming off a week in which they allowed 275 passing yards to Trevor Lawrence on just 19 total pass attempts (14.5 YPA). In fact, each of the last three opposing starting quarterbacks has thrown for at least 259 yards and have combined for a 7:0 TD:INT ratio. The matchup alone could warrant the use of DeVito in a tournament lineup or two.
Running Back
Kenneth Gainwell, Memphis

($10,300) vs. SMU
SMU's defense surrenders only 3.4 yards per carry and 0.8 rushing touchdowns per game this season, which would seem to oppose the theory that Gainwell will produce this week. The only problem with that is that Gainwell fits into a category of his own. Not only has he run for 100-plus yards in six straight games, but the hybrid back has a 203-yard receiving game under his belt against a Tulane defense allowing just 187.8 passing yards per game on the year. SMU's defense has been much more forgiving in the passing game, allowing north of 270 yards per game and 2.6 passing touchdowns per contest, and Gainwell ranks second on the team in targets per game (4.9). Even if he doesn't rack up quite his usual total on the ground, his ability to contribute as a pass-catcher should work in his favor this week.
Xavier Jones, SMU

($9,700) at Memphis
Staying in the same game, the Memphis defense is nearly the polar opposite of the Mustangs. Through Week 9, the Tigers are allowing only 186.3 passing yards per game, 6.5 yards per pass attempt and 1.1 passing touchdowns per game. They have been gouged much more by opposing backs, however, letting up 188.8 rush yards per game 4.2 yards per attempt and 1.5 rushing scores per contest. This fits right in the wheelhouse for Jones, who has toted the rock no fewer than 22 times in the last three weeks and is averaging 25.7 carries per game over that span. If that average holds true Saturday in what's expected to be a close contest, Jones should easily surpass the century mark again.
Bentavious Thompson, UCF

($7,000) vs. Houston
Thompson's biggest constraint each week is the team's committee approach out of the backfield. Even without a full workload, he has turned in three straight performances of at least 12.5 points and is coming off a two-touchdown outing against Temple. Houston's defense sits in a similar boat as Temple, allowing 171.9 rushing yards per game and 11 rushing scores on the year, and the game script works in Thompson's favor, with the Knights sporting a -22 line. That portends to a large number of rushing attempts Saturday, which should work in the favor of Thompson with Greg McCrae sidelined.
Wide Receiver
Gabriel Davis, UCF,

($9,600) vs. Houston
Among the options near the top of the board, Davis is really the only one with the combo of a strong matchup, track record, health and quarterback situation. Through the first nine weeks, Davis sports the nation's third-highest target share (33.7 percent). He also has double-digit targets in each of the last three weeks, though last Saturday's 10 resulted in just three grabs for 83 yards. As highlighted in the Dillon Gabriel section above, Houston's defense has been extremely friendly to opposing passing games. As the clear favorite in the offense and with the lack of superstar options at other positions, leaving room in the budget for Davis is a strong strategy.
Trishton Jackson, Syracuse

($8,500) vs. Boston College
Jackson sits on the other end of a Syracuse passing game that receives the best matchup on the slate. The only difference between Jackson and DeVito is that Jackson has actually produced beyond one game, even in contests tougher matchups. He has four games of double-digit output and three 20-plus efforts, with a season-high 31.2 points coming against Maryland early in the season. Over the last three weeks, Jackson has sported a 31.1 percent target share, up from 27.2 for the year. He should earn plenty of looks again Saturday as DeVito's favorite target and finally faces a defense he should be able to exploit for big yardage.
Wan'Dale Robinson, Nebraska

($8,200) at Purdue
Robinson is the ultimate weapon for the Nebraska offense, touching the ball 28 times last week against Indiana. With Maurice Washington out of the mix for the foreseeable future, it seems unlikely Robinson's usage as a runner and receiver will die down anytime in the coming weeks. He also may have the fortune of Adrian Martinez's return from a two-game absence. Despite his consistent usage out of the backfield, Robinson still qualifies as a wide receiver and costs just a fraction of what his production last week would suggest. Given the lackluster Purdue defense across the board, it seems likely he will finish closer to last week's showing than the dud he posted against Minnesota in Noah Vedral's first game under center.
Braydon Johnson, Oklahoma State

($6,200) vs. TCU
Johnson's fantasy value heightens with the news that star wide receiver Tylan Wallace will miss the remainder of the 2019 season with torn ACL he suffered during practice Wednesday. Wallace sported the third highest target share (36.9 percent), which will need to be redistributed, and Johnson finished last week with the second-most targets on the team, including his second touchdown of the season. Without Wallace, Johnson, Landon Wolf, Jordan McCray and Dillon Stoner will likely all see a rise in pass attempts, but Johnson's 18.4 yards per target make him the best bet to take over Wallace's deep-threat ability. The matchup isn't particularly great, so you're mainly banking on opportunity versus cost for this selection.
The author(s) of this article may play in daily fantasy contests including – but not limited to – games that they have provided recommendations or advice on in this article. In the course of playing in these games using their personal accounts, it's possible that they will use players in their lineups or other strategies that differ from the recommendations they have provided above. The recommendations in this article do not necessarily reflect the views of RotoWire. Chris Benzine plays in daily fantasy contests using the following accounts: FanDuel: Crispy272001, DraftKings: Crispy27.