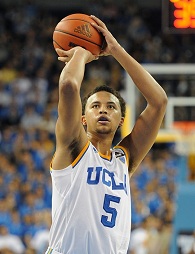 At RotoWire, we have staff writers dedicated to covering fantasy college basketball and we keep our information up-to-date throughout the year. It's our goal to make sure you have the advice and tools to win. Dive deep into our 2020 fantasy college basketball draft kit today and coast to victory.
Latest Fantasy College Basketball Articles
Conference Preview: Big 12

With four starters back & several an influx of transfers, Bill Self might have his best unit in some time -- one that's also loaded with fantasy assets. Ryan Andrade previews the Big 12 conference.

Conference Preview: Big Ten

The Big Ten collectively sports the best group of centers in all of college basketball, including an Illini standout seeking a Wooden Award. Jason Shebilske breaks down the conference's key fantasy factors.

CBB Draft Kit: Mid-Major Impact Transfers

After posting 16.5 ppg at Nevada in 2020-21, Teddy Allen is headed to the Mountain West, where the forward will be a sleeper MW Player of the Year candidate and fantasy dynamo.

CBB Draft Kit: Power Conference Impact Transfers

NBA prospect Marcus Carr is back in school but taking his talents to a revamped Texas team to help replace pieces lost in the backcourt. Chris Drumright ranks the top-25 impact transfers in power conferences.

NCAA Championship Preview: Gonzaga vs. Baylor

After his buzzer beater took the nation by storm, freshman Jalen Suggs -- alongside stellar center Drew Timme -- and Gonzaga enter the National Title game as favorites against a defensive-minded Baylor team.

NCAA Tournament: Final Four Betting Analysis

A 14-point spread in favor of Gonzaga is right on par with its other tournament victories. Adam Zdroik discusses what factors to consider when placing a wager on that contest, as well as the HOU vs. BAY game.

Final Four Preview: Gonzaga vs. UCLA

The Gonzaga Bulldogs look unstoppable, flat-lining all their opponents by 15+ points to get to the Final Four. Does UCLA have a chance to get in their way? Chris and Jason break down the matchup.

Final Four Preview: Baylor vs. Houston

Having yet to face a team with a single-digit seed in the tournament, is Houston battle-tested enough to contend with Big 12 powerhouse Baylor in the Final Four? Jesse and Ryan offer their perspectives.

NCAA Tournament: Elite Eight Betting Analysis

The best two-point defense is taking on a historically-good two-point offense in the Elite Eight, but how should that affect the game's spread? Adam Zdroik dives into the metrics to break down the matchups.

NCAA Tournament: Sweet 16 Bets

The Ramblers are again making magic happen in March, but the real question is -- can we count on them to cover? Steve Peralta offers his favorite plays in the Sweet Sixteen set of games.

Sweet 16 Preview: West Region

The Bulldogs continue to do what is expected as the top overall seed in the tournament, and Jason Shebilske believes that momentum can continue into the Sweet Sixteen. Check out his picks and breakdowns.

NCAA Tournament: Sweet 16 Betting Analysis

Do Buddy Boeheim and the Orange "break" the traditional college basketball metrics? Adam Zdroik examines how to weigh recent performance against the season-long numbers and apply this to CBB betting.

Sweet 16 Preview: East Region

Can Hunter Dickinson stay out of foul trouble for the Wolverines against a deep FSU squad? How will UCLA fare against Alabama's fast-paced attack? Chris Bennett breaks down the East Region matchups.