This article is part of our DFS College Basketball series.
Overview
The March 10 college hoops slate is a bit unusual for a Tuesday. We normally have 10-plus games to consider on Tuesdays, but not this time. Our player pool for today's slate consists of just four teams: Pittsburgh, Wake Forest, North Carolina, and Virginia Tech. This holds true for both sites, as DraftKings and FanDuel have a consensus here.
Today is challenging in the sense that both games are evenly matched. In fact, KenPom is projecting each game to end with a final score of 70-69. The betting odds mostly reflect this, although the UNC-VT game has a slightly higher over/under total compared to Pittsburgh-WF. I tend to agree and expect that the former matchup will be higher scoring, but the totals are so tight that both games deserve equal consideration.
Pittsburgh (-1) vs Wake Forest, o/u 139, 4:30pm ET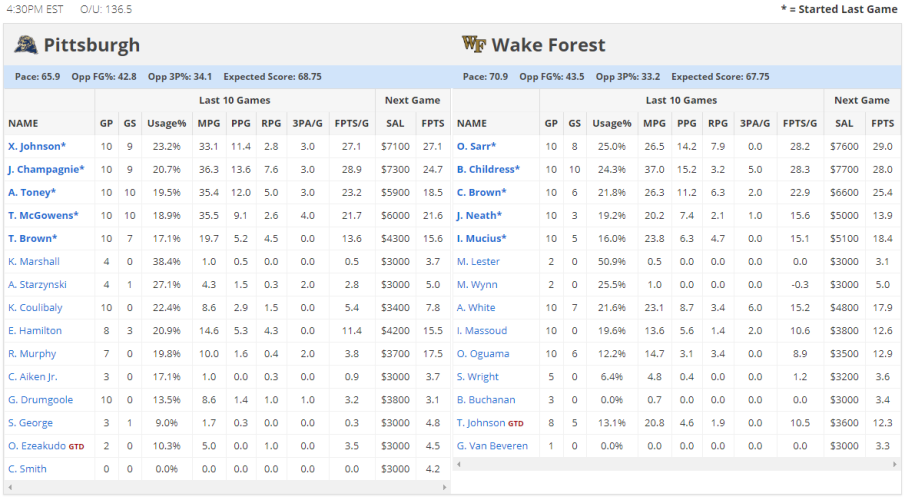 This game might have the lower over/under total, but don't discount it. One reason being Wake Forest had the worst defensive efficiency in ACC games this season. Pittsburgh should see a boost on offense. On the other side, Wake Forest had the seventh best offensive efficiency in the ACC this season, while Pittsburgh's defense was ranked 10th during conference play. The fascinating part of the equation here is the tempo. Wake Forest had the second-fastest tempo in ACC games this season, while Pittsburgh had the second slowest. I tend to think that Wake Forest will force a faster game but then again we saw the opposite happen when these two teams last played each other back on Jan. 4.
If you think Pittsburgh will take advantage of a soft Wake Forest defense, then you'll first want to consider Justin Champagnie ($7,300 DK, $6,100 FD), as he takes 23.6 percent of his team's shots when he's on the court – the highest rate on the team. He also leads the team in rebounding and has dual-position eligibility in DraftKings, so he's a great option all-around. Sophomore point guard Xavier Johnson ($7,100 DK, $6,600 FD) plays the most minutes on the team and uses the most possessions so he's another strong option. In fact, Johnson had the fifth highest assist rate in the ACC during conference play this season. Trey McGowens ($6,000 DK, $5,400 FD) is right behind Johnson, as he ranks second on the team in both minutes played and possession usage rate. Au'Diese Toney ($5,900 DK, $5,200 FD) averages 30 minutes per game but has a lower usage rate compared to the other three starters. Eric Hamilton ($4,200 DK, $4,600 FD) has seen increased playing time in the last two games and could provide nice value if that trend continues. One additional note: Pittsburgh had the best defensive turnover rate during ACC play this season while Wake Forest had the third-worst turnover rate on offense. This means that Pittsburgh defenders (I.e. Johnson and McGowens) might have more steals than usual.
If you're looking for a Demon Deacon, then Brandon Childress ($7,700 DK, $7,000 FD) is a great starting point. Childress plays the most minutes on the team and had the seventh highest assist rate during ACC play this season. Olivier Sarr ($7,600 DK, $7,500 FD) has the highest offensive efficiency rating on the team (per KenPom) and leads the team in rebounds. Chaundee Brown ($6,600 DK, $5,900 FD) takes 23.6 percent of his team's shots when he's on the court, which is the second-highest rate on the team. Isaiah Mucius ($5,100 DK, $4,800 FD) and Jahcobi Neath ($5,000 DK, $4,700 FD) have seen a significant increase in playing time lately. Either one could provide value if that continues. Andrien White ($4,800 DK, $4,200 FD) is the team's best three-point shooter. White has a chance to benefit from this matchup because Pittsburgh had the third worst three-point defense in the ACC during conference season.

North Carolina (-3) vs Virginia Tech, o/u 142, 7pm ET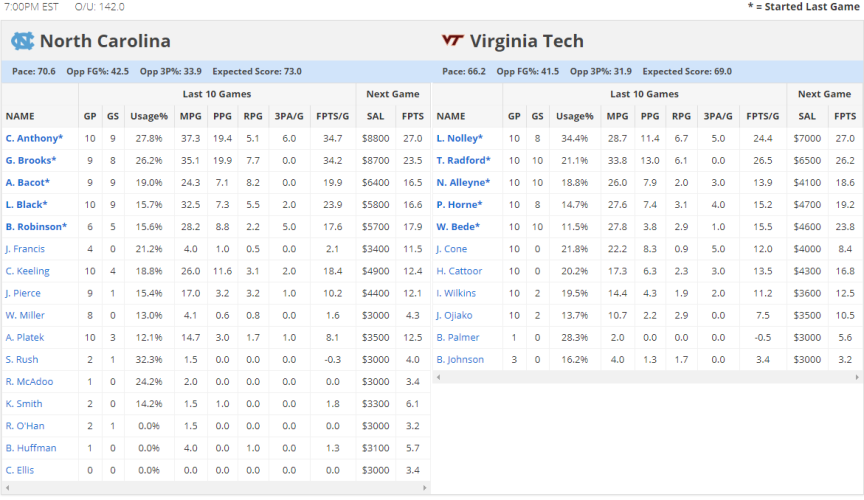 This matchup feels nothing like their previous encounter back on Jan. 22 when they played at Cassell Coliseum. Cole Anthony ($8,800 DK, $8,500 FD) was still injured at that point, and the Tar Heels ended up losing in double overtime. Looking at the game on March 10, circumstances have certainly changed. Anthony is now healthy and leading the charge, as the Tar Heels have scored 76-plus points in each of their last four games. They are rightfully favored in this spot but I should note that their opponent is no pushover. Virginia Tech is good enough to beat a team like Michigan State on any given day. Virginia Tech's formula for success usually involves slowing the game down and relying on its defense to make plays. I tend to like the Tar Heels this second time around, but if Hokies dictate the pace, then this one could get ugly.
For the Tar Heels, we first and foremost have Cole Anthony ($8,800 DK, $8,500 FD) and Garrison Brooks ($8,700 DK, $8,300 FD). Anthony gets most of the attention (for good reason) but don't sleep on Brooks. He's scorching hot. Brooks has scored 20-plus points and secured five-plus rebounds in each of the last six games. If you're not sold on Brooks or simply want to stock up on Tar Heels, then Leaky Black ($5,800 DK, $5,100 FD) and Brandon Robinson ($5,700 DK, $5,000 FD) aren't bad options as they both average over 30 minutes per game. Armando Bacot ($6,400 DK, $5,600 FD) is another key player but recently suffered an ankle injury. It seems that he's fine now, but the injury is something to keep in mind. Christian Keeling ($4,900 DK, $4,400 FD) has been trending upward over the course of the past 10 games but came down to earth in the last game against Duke. Keeling has potential as a good value pick.
For the Hokies, Landers Nolley II ($7,000 DK, $6,400 FD) is your best option as he leads the team in minutes played and has one of the highest usage rates in the country. Tyrece Radford ($6,500 DK, $6,000 FD) doesn't have a high usage rate but is one of the most efficient players in the conference. During ACC play this season, Radford had the seventh highest offensive efficiency rating while having the highest effective field goal percentage. Wabissa Bede ($4,600 DK, $4,900 FD) is the team's starting point guard and had the fourth-highest assist rate in ACC games this season. P.J. Horne ($4,700 DK, $4,600 FD) has the lowest usage rate among starters but is coming off his best two-game span of the season. Hunter Canttoor ($4,300 DK, $4,500 FD) similarly played well in his last two games but is a riskier play given his overall track record.
Have questions about our DFS content? Want to learn more about games that aren't mentioned here? Leave a comment, or jump in on our subscriber Discord to chat with other CBB DFS players.
The author(s) of this article may play in daily fantasy contests including – but not limited to – games that they have provided recommendations or advice on in this article. In the course of playing in these games using their personal accounts, it's possible that they will use players in their lineups or other strategies that differ from the recommendations they have provided above. The recommendations in this article do not necessarily reflect the views of RotoWire. Steve Peralta plays in daily fantasy contests using the following accounts: FanDuel: Buddusky, DraftKings: Buddusky24.