This article is part of our Collette Calls series.
Last season, Dexter Fowler and Alex Gordon were simply unrosterable in standard mixed leagues. Gordon at least hit 13 home runs and stole 12 bases, but was mostly a compiler of stats down in the bottom of the lineup. Fowler did neither, and hit a career-low .180 seemingly out of nowhere after years of consistent production.
This season, both are off to surprisingly hot starts at the plate, albeit in different manners. Have they changed something to get better results or is a hot streak just magnified this time of year because of the reset button that comes with the start of the season? We will begin with Fowler.
Entering play May 1, Fowler is hitting a surprising .313/.415/.425 on the heels of his .180/.278/.298 line from 2018. The lazy way to look at this would be to say that Fowler's success is from his .407 batting average on balls in play and just write it off as pending regression and move on. After all, his walk rate and strikeout rates are nearly identical to where he was last year. That said, maybe there is something else besides luck that has caused Fowler's BABIP to nearly double from the .210 number it was last year?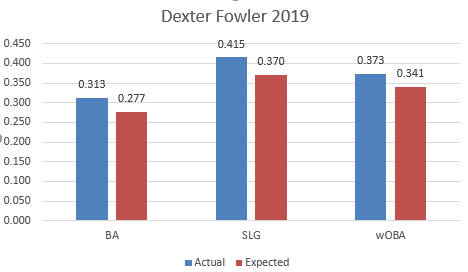 StatCast says that Fowler is overachieving out of the gate as his actual results are outpacing the quality of his contact. If we look at his hard-hit rate at StatCast, he had a 28 percent hard-hit rate last season, and that rate is at 31